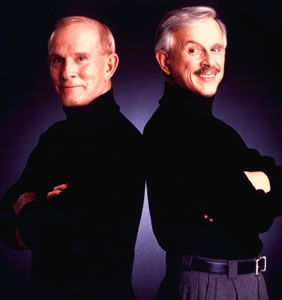 The Smothers Brothers perform at the Vilar Performing Arts Center in Beaver Creek Sunday as part of their 50th anniversary tour.
www.vilarpac.org
Smothers Brothers' celebrate 50th anniversary with special Vilar Center show Sunday
By realvail.com
March 12, 2009 — Time has been an essential ingredient in The Smothers Brothers' success. They have been considered ahead of their time, masters of timing and practitioners of timeless comedy.

Now, as they mark 50 years in show business, The Smothers Brothers are being saluted as time-honored legends whose lengthy career has surpassed all other comedy teams in history.

They bring their comedic tradition to the Vilar Performing Arts Center for a special performance on Sunday at 7:30 p.m., as part of their 50th Anniversary Tour, with special guest The Yo-Yo Man.

With their singular blend of comedic and musical talents, the irrepressible siblings have made a sweeping impact on diverse generations of fans. Such lasting power is a testament to their
intuitive humor, natural warmth, superlative showmanship and the pure unadulterated joy they bring to audiences of all ages.

The Smothers Brothers have made an art form out of sibling rivalry. From San Francisco's Purple Onion in 1959 to weekly television, from Las Vegas to the theater stage, they have refined and elaborated their special brand of fraternal put-down, provocation, one-upmanship and attention-getting misbehavior.

The contributions Tom and Dick Smothers have made to the entertainment world throughout their careers are so highly respected that the Museum of Television and Radio (New York) produced a retrospective and seminar on their work; an honor not lightly accorded. The entertainment industry honored them with a star on the historic Hollywood Walk of Fame.

"Smothered," a film by award-winning director Maureen Muldaur, documents the Brothers' struggle against censorship and their subsequent firing by the CBS Television Network.

The Smothers Brothers have been described as one of the most successful teams in history, comedic treasures, comic geniuses, rare, original and peerless. Justifiably, time has provided them another name: "American Classic."

Tickets for The Smothers Brothers are $60, $70 oe $80 based on seating, and are available online at www.vilarpac.org by phone at (888) 920-ARTS(2787) or in person at the VPAC box office in Beaver Creek.

Tickets are available online 24 hours a day; the box
office is open Monday through Saturday from 11 a.m. to 5 p.m., with additional hours on performance days.


Comment on "Smothers Brothers' celebrate 50th anniversary with special Vilar Center show Sunday " using the form below