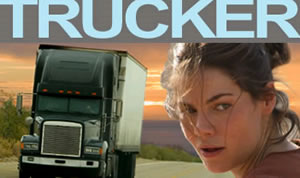 Trucker, starring Michelle Monaghan and Benjamin Bratt, opens the Vail Film Festival on April 2.

Vail Film Festival to screen more than 50 films April 2-5
From 'Trucker' to 'Weather Girl,' film fest once again offers diverse, compelling lineup
By realvail.com
March 21, 2009 — The Vail Film Festival recently announced its complete lineup of more than 50 films selected for screening at the 2009 festival April 2–5 in America's top-rated ski resort.

The 2009 Vail Film Festival opens on Thursday, April 2, with a screening of Trucker, directed by James Mottern, starring Michelle Monaghan, Joey Lauren Adams and Benjamin Bratt.

This touching drama follows the story of a hard-nosed truck driver, Diane (Monaghan), who leads a carefree life of all-night bar benders until her estranged 11-year-old son shows up at her door one evening.

Having not seen his mother since he was a baby, he wants as little do with her as she does with him. But with Diane's ex-husband Len (Bratt) hospitalized, the two are stuck with each other -- at least for a while.

Weather Girl, directed by Blayne Wilson and starring Tricia O'Kelley, Patrick J. Adams, Ryan Devlin, Mark Harmon and Kaitlin Olson, will screen as the closing film on Saturday, April 4.

After learning her boyfriend (Harmon) cheated on her with his co-host (Olson), a Seattle morning show weather girl (O'Kelley) freaks out on-air and is fired.

Forced to move in with her little brother (Devlin) and deal with his best friend (Adams), she has to learn to cope with being 35, single, unemployed, and unfortunately famous for being the sassy weather girl who lost it on live television.

Other feature film highlights at this year's festival include Karen Kingsbury's Like Dandelion Dust, based on the best-selling novel, directed by Jon Gunn and starring Mira Sorvino, Barry Pepper, Cole Hauser, Maxwell Perry Cotton and Kate Levering; The Disappeared, directed by Johnny Kevorkian and starring Neil Murphy and Tom Felton; Bill Pympton's animated feature, Idiots and Angels; and True Adolescents, directed by Craig Johnson, starring Mark Duplass, Academy Award-nominated Melissa Leo, Bret Loehr, and Carr Thompson.

"We're very proud that the Vail Film Festival has become a sought-after event for filmmakers from around the world to screen and premiere their work," said Scott Cross, co-founder and co-director of the Vail Film Festival. "Our submissions are some of the best in independent film, and we are excited once again to have an exceptionally strong program."

2009 Vail Film Festival Feature Films:

The Disappeared, directed by Johnny Kevorkian
Idiots and Angels, directed by Bill Plympton
Karen Kingsbury's Like Dandelion Dust, based on the best-selling novel and directed by Jon Gunn
Trucker, directed by James Mottern
True Adolescents, directed by Craig Johnson
Weather Girl, directed by Blayne Weaver

Documentaries:

Behind the Wheel, directed by Cody Lucich ,Tao Ruspoli, and James Wade
The Day After Peace, directed by Jeremy Gilley
Garbage Dreams, directed by Mai Iskander
Going on 13, directed by Kristy Guevara-Flanagan and Dawn Valadez

Shorts:

A Xinecologa (The Gynaecologist), directed by Alfonso Camarero
The Antagonist, directed by Jessie McCormack
The Burger, directed by Meghan McDonough and Anna Bolt
Dinner with Raphael, directed by Joey Boukadakis
Every Other Weekend, directed by Tim Slade
Glock, directed by Tom Everett Scott
Grisen (The Pig), directed by Dorte Hoegh
In the Wind, directed by Martin Papazian
Kidnapping Caitlynn, directed by Katherine Cunningham-Eves
Lighthouse Avery, directed by Kestrel Burley
Mildred Richards, directed by Marc Kess
The New Yorkist, directed by Dana O'Keefe
Nomansland, directed by Scott Belyea
Pinatas Revenge, directed by Delaney Bishop
Porque Hay Cosas Que Nunca Se Olvidan, directed by Lucas M. Figueroa
Premature, directed by Rashaad Ernesto Green
Pussyfooting, directed by Lisa James-Larsson
Rubberheart, directed Brian Crano
Steak and Milk, directed by Michael Maxxis
Summer of the Cicada, directed by Alfredo Vincente
Tender as Hellfire, directed by Jason Stone
Terminus, directed by Trevor Cawood
Winter Lilacs, directed by Stephen Gurewitz

Student Films:

Coons, directed by Chris Cloyd
Desert Wedding, directed by Alexandra Fisher
In the Dark, directed by Alex Fazeli
Marooned?, directed by Ryan Nagata
Miracle Investigators, directed by Jeremy Dehn
Open Your Eyes, directed by Susan Cohen
Out of the Water, directed by Daniel Citron
Shopping, directed by Pedro Suarez
The Sheriff, directed by Jeff M. Giordano
Vampire, directed by Kwanik Park

Action Sports:

Life as a Movie, directed by Benji Weatherley
The Sublimation Experiment, directed by Chris Kitchen and Sam Pope
Uniquely, directed by John Roderick

Animated Films:

Glago's Guest, directed by Chris Williams
Hot Dog, directed by Bill Plympton
Lavatory-Lovestory, directed by Konstantin Bronzit
Mutt, directed by Glen Hunwick

Film details and the entire lineup of 2009 film selections in all categories are now available at www.vailfilmfestival.org.

Additional festival highlights include the opening night gala at the Donovan Pavilion, a filmmakers' reception at Larkspur, the festival awards ceremony featuring Michelle Monaghan and Kevin Smith, as well as the closing night pParty at Billy's Island Grill.

The Hospitality Lounge, which will act as the festival's central destination, will feature festival partners Product (RED), Stella Artois, and Lufthansa and will be open to filmmakers and festival passholders.

Also this year, the lounge will feature live music from LA's acclaimed Hotel Café. Musicians include Grammy winner Cary Brothers, Laura Jansen, Holly Conlan, and others.

About Vail Film Festival

The Vail Film Festival promotes independent film and fosters independent filmmakers. Besides screening some of the year's top films from around the globe, the festival will also feature industry panel discussions, a special awards ceremony, including a Q&A with Kevin Smith, family festivities, ski and snowboarding events, and VIP parties. Live music by LA's acclaimed Hotel Café, presented by Vail Racquet Club, will round out this four-day event.

The Vail Film Festival is produced by the Colorado Film Institute, a non-profit arts organization that is dedicated to fostering independent cinema and creative film making.

Festival passes incorporate a combination of movies, filmmaker panels, galas and music, with deep discounts on skiing for festival pass-holders. For tickets and additional information, visit www.vailfilmfestival.org, or call (970) 476-1092.



Comment on "Vail Film Festival to screen more than 50 films April 2-5" using the form below