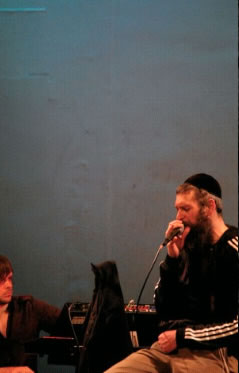 Matisyahu, originally scheduled to play Vail April 18, has been scratched from the Spring Back to Vail lineup for financial reasons, according to even organizers.
Courtesy of
www.matisyahuworld.com
Free Matisyahu show scratched from Spring Back to Vail lineup
By realvail.com
March 25, 2009 — Vail-based Highline Sports and Entertainment cancelled Spring Back to Vail's previously announced Matisyahu concert on Saturday, March 18.

The schedule change was the result of the current economic challenges and resulting budget limitations. The announcement comes with an addition to Spring Back to Vail's Saturday schedule: a free BBQ with a celebrity DJ spinning during the Tuaca World Pond Skimming Championships held at Golden Peak on Vail Mountain from 2 to 4 p.m.

"In conjunction with Vail Resorts, we recognize that these are challenging times and understand the importance of demonstrating fiscal responsibility," said James Deighan of event producer Highline Sports and Entertainment.

"At the same time, we want to say thank you to all of guests for another great season and not diminish the longevity of Spring Back to Vail, an annual Vail festival we've all come to love. That's why all of this year's Spring Back to Vail events will be on us."

Deighan asserts that Spring Back's pond skimming event has become a signature aspect of the annual festival. Hosting a complimentary BBQ and featuring a celebrity DJ spinning will keep the already crazy crowd enjoying the on-mountain festivities into the late afternoon and early evening.

"Following all the pond skimming fun will be an epic treasure hunt throughout Vail Village for the chance to win a multitude of prizes from Vail Resorts," said Jeff Brausch of Highline Sports & Entertainment.

"Prizes will include a destination trip for two to a remote Vail Resort's property, a host of '09-'10 Epic Passes as well as a wide variety of merchandise gifts, including K2 and Liberty skis, Smith eyewear and tons more."

The two previously scheduled headliner concerts, Chris Isaak performing on Friday, April 17, and Of a Revolution (O.A.R) performing Sunday, April 19, will remain on the schedule as planned.

The concerts will be free to the public and held at a brand-new venue in Vail Village, with the stage set at the new Solaris area and concert-goers moving across the International Bridge to Checkpoint Charlie.

It's all part of Spring Back to Vail, April 13-19, 2009. Each year, Spring Back to Vail brings end-of-season entertainment to Vail Mountain with on-snow events, non-stop music, nightly parties, the ever-popular World Pond Skimming Championships and new for 2009, the Breitling All Mountain Film Competition. For more information, visit www.springbacktovail.com.

Vail Resort's lift ticket package for the event includes the purchase of a seven-day lift ticket for $199. The package is valid April 13-19, 2009 and offered on an advance purchase only.

For additional package information visit www.vail.com. Vail Resort's '09-'10 Epic Season Pass is now on-sale for just $579. The Epic Pass is the only ski pass that offers unrestricted and unlimited access to Vail, Beaver Creek, Breckenridge, Keystone and Heavenly. Visit www.epicpass.com to purchase the Epic Season Pass.

Comment on "Free Matisyahu show scratched from Spring Back to Vail lineup" using the form below