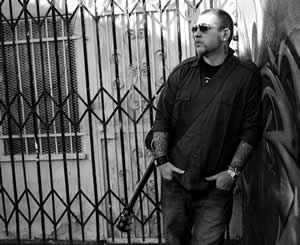 Everlast best known for his role in House of Pain also is a Grammy Award winner for his Whitey Ford Sings the Blues. Examples of his multi-dimensional hip-hop style
Everlast
Everlast lays down multi-dimensional hip-hop beat in Lionshead
Show is next to last for the Street Beat season series.
By realvail.com
April 8, 2009 — Everlast brings a unique beat to the next-to-last Street Beat this season on Wednesday, April 8. Touted as a musical hybrid with a "multi-dimensional hip-hop" sound, Everlast member Erick Schrody was once best known for his role in House of Pain.

But Everlast reinvented himself in 1998 with the best-selling Whitey Ford Sings the Blues, a largely acoustic, hip-hop-flavored album featuring the pervasive Top 40 single "What It's Like." The Grammy-winning singer/songwriter has continued to break ground since, selling millions of records and collaborating with legends like Santana.

Everlast has enjoyed a number of musical identities, both literally and figuratively, during the course of his career, most of which will be on display tonight on the Streets of Arrabelle at Vail Square in Lionshead.



About Everlast
The Irish-born Everlast emerged as a member of Ice-T's Rhyme Syndicate for his 1990 solo album Forever Everlasting , before moving on to form the pioneering rap group House of Pain with friends DJ Lethal and Danny Boy. The group went multi-platinum with their self-titled 1992 debut, which produced the rap anthem "Jump Around".
His true self emerged upon the demise of House of Pain, pursuing a solo career while also creating the alter ego of Whitey Ford for his inaugural release on his own, Whitey Ford Sings the Blues, in 1998. Hip-hop was now just one of many ingredients in his sound, and he was just as likely to pick up an acoustic guitar as bust a hard-core rap. The sound became a stirring hybrid of turntables and acoustic guitars he termed "hick-hop".
"That's my hip-hop alias," explained Everlast, relative to the Whitey Ford moniker. "There's no connection to Whitey Ford (legendary New York Yankee pitcher) other than the fact that he's Irish and I'm a Yankee fan. It's a description, a color of a crayon more than anything, a persona I use to speak through."
"It enables me to say things about myself I might not ordinarily," he continued. "Still, after the success of that album, there were a lot of people who actually thought I was Whitey Ford."
While recording Whitey Ford Sings the Blues, Everlast suffered a massive cardiac arrest stemming from a congenital defect, which resulted in heart bypass surgery and an artificial valve implant. Following his recovery, he completed the recording, which went platinum, launching the pervasive Top 40 single "What It's Like".
After appearing on Santana's vaunted comeback album Supernatural, he began work in 2000 on Eat at Whitey's, the follow-up release that enjoyed critical notice, although not quite as commercially successful as the original. His work on Santana's "Put Your Lights On" earned him a Grammy Award for Best Performance by a Duo or Group with Vocal.
After a 2004 foray into the moody, song-driven and country influenced White Trash Beautiful, along with a reunion with his House of Pain alums in a hip-hop supergroup entitled La Coka Nostra, Everlast revisits his Ford character once again with 2008's Love, War and the Ghost of Whitey Ford.
"I've really changed the sound on what I do," concluded Everlast. "It's not so acoustic-based anymore. There are different textures and it rocks a lot harder."
All Bud Light Street Beat free concerts get underway at 6 p.m. at either Checkpoint Charlie in the heart of Vail Village or at the Arrabelle at Vail Square in Lionshead. Concert-goers are encouraged to dress appropriately for the outdoor performances, with food and beverages available for purchase at each show.
In addition to the free concert, Eagle, Lake and Summit County residents can register to win the season-long grand prize as Volvo Cars of North American will give away a 2009 Volvo C-30 to one lucky local next week at the final concert on April 15.
Out of town guests can also cash in as Volvo Cars of North America, the Vail Valley Foundation and the Town of Vail have teamed up to provide the Volvo Vail Grand Prize Guest Giveaway for a lucky non-resident, featuring a return vacation trip to Vail with deluxe accommodations. The Volvo Vail Grand Prize Guest Giveaway will also be awarded next week.
Additional information
For additional information on Bud Light Street Beat, visit
www.streetbeatconcerts.com
. For more information on the Foundation, contact (970) 949-1999 or visit
www.vvf.org
.

Comment on "Everlast lays down multi-dimensional hip-hop beat in Lionshead" using the form below