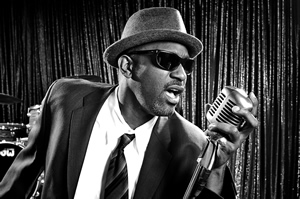 Aceyalone of Aceyalone & The Lonely Ones will play a free show in Vail Village June 5 as part of the Teva Mountain Games.
Courtesy of the Vail Valley Foundation
www.vvf.org
Tamarama and Aceyalone & The Lonely Ones to play free Teva Mountain Games shows in Vail
By realvail.com
April 27, 2009 — While some of the world's foremost outdoor adventure athletes tackle the mountains and rivers of Colorado's Vail Valley June 4-7 at the 2009 Teva Mountain Games, some equally prominent musical artists will take to the main stage for a trio of free concerts as the Vail Valley Foundation launches the "Bud Light Mountains of Music" series in conjunction with the annual Mountain Games.

The Foundation recently confirmed two-thirds of the 2009 Mountains of Music performance lineup, signing Tamarama and Aceyalone & The Lonely Ones for free concerts on June 4 and June 5 respectively. Both shows will be on the main Mountain Games stage at Checkpoint Charlie in Vail Village and both will get underway at 6 p.m.

"Expanding the musical element of the Teva Mountain Games was one of our goals when we acquired the event," said Michael Imhof, Vice President of Sale and Operations for the Vail Valley Foundation. "We feel that we are well on our way to generating a great deal of interest from both Mountain Games competitors and spectators by signing Tamarama and Aceyalone."

If you have already heard of Tamarama, it is probably because you are either exceedingly familiar with the obscure beach regions of Sydney, Australia and New South Wales or an avid fan of MTV's "The Hills" and "The City".

Borrowing their name from a little known beach where they grew up, Tamarama's Jay Lyon and Nicolas "Pottsy" Potts have nurtured a sound reflecting life on the shores of OZ, with a mix of folk, rock reggae rhythms, breezy melodies and easy going lyrics. This combination earned the duo over 123,000 plays on MySpace and sold 10,000 copies of their debut EP in Australia.

Early feedback points to Tamarama as a hip, modern Jack Johnson sound with international appeal. Currently based in New York City, the new surroundings and diversity have helped develop their sound, broaden their influences and deepen their style.

Originally featured in "The Hills", Lyon has also earned a recurring role in the spin-off, "The City", playing himself and serving as the on and off screen love interest of star Whitney Port.

A founding member of the Los Angeles-based rap group Freestyle Fellowship, Eddie Hayes, better known by his stage name, Aceyalone, helped lead a movement in the early 90's offering an alternative to gangsta-rap, which was still in its infancy in Compton, California.

He dropped his critically-acclaimed solo debut, All Balls Don't Bounce, in 1995 and has maintained a devoted following over the years thanks to his ability to combine raw rhyming skills with a gritty gumbo of musical styles and influences.

His ninth release, The Lonely Ones, continues that tradition, combining modern flow with reinterpretations of 60's and 70's funk, pop, R&B, doo-wop and more. Even with its differing textures, The Lonely Ones is a brassy, non-stop party that blends one track into another seamlessly, without recycling samples or subject matter.

The Teva Mountain Games is the nation's largest celebration of mountain sport, lifestyle and culture featuring the top professional and amateur athletes from around the world.

The environmentally-friendly adventure sporting event hosts up to 3,000 professional and amateur outdoor athletes, with an estimated 35,000 spectators, with athletes converging on Vail's mountains and rivers to compete in seven sports and 21 disciplines for over $100,000 in prize money.

Events include kayaking, rafting, mountain biking, road cycling, World Cup and amateur climbing, fly-fishing, trail running, DockDogs competitions and multi-sport racing.

In addition to the outdoor mountain events, the Teva Mountain Games also includes a mountain photography competition, an interactive exhibition and demo area, Gear Town, live music and mountain lifestyle parties.

The 2009 Teva Mountain Games is a project of the Vail Valley Foundation. For more information on the Mountain Games, visit www.tevamountaingames.com. For more information on the Foundation, visit www.vvf.org.


Comment on "Tamarama and Aceyalone & The Lonely Ones to play free Teva Mountain Games shows in Vail" using the form below