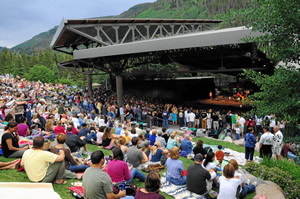 Vail International Dance Festival offers Performance Plus Pass for $85
By realvail.com
May 2, 2009 — With the nation consumed by talk of bailouts, bonuses and the stock market bottoming out, it's good to know that there are still some legitimate bargains to be had in these troubled times.

The Vail International Dance Festival's popular Performance Plus
Pass is the perfect low cost cultural stimulus package, with more shows and more savings, offering dance fans eight shows for the price of five.

Priced at $85 per pass, Performance Plus provides holders with one general admission lawn seat for all eight Dance Festival performances hosted at the Gerald R. Ford Amphitheater. In addition, the Festival is offering a Student Performance Plus Pass for just $55.

The Performance Plus Passes are not valid for the festival
performances at the Vilar Performing Arts Center as there is no general admission seating for those shows. Passes are non-transferable.

In addition to the initial savings of $43 on individual general
admission tickets priced at $17 and $9 apiece, the Performance Plus Pass will also allow the holder to upgrade to a reserved seat, if available, one hour prior to the start of each performance, for no additional charge. Reserved seats are priced from $20-$85 apiece, depending on the performance.

Along with the financial advantages, Performance Plus will also
entitle the holder to a $10 discount on the purchase of a bottle of wine, with a limit of one bottle per show.

The 2009 Vail International Dance Festival gets underway July 27 at the Gerald R. Ford Amphitheater with a special performance by tap legend Savion Glover, along with the Bare Soundz dancers, and accompanied by jazz quartet, The Otherz.

Other Ford Amphitheater performances will include the Aug. 1 Vail
debut of Miami City Ballet, the Aug. 2 mixed bill Festival Highlights Spectacular, Dance for $20.09 on Aug. 4, the heralded return of Morphoses /The Wheeldon Company on Aug. 7, the popular International Evenings of Dance on Aug. 8 and 9 and an all star evening of ballroom dancing, dubbed "Ballroom's Best," on Aug. 10.

The 2009 Performance Plus Passes are on sale and may be purchased
online at www.vaildance.org or by calling either (970) 845-TIXS (8497) or 1-888-920-ARTS (2787). Individual tickets for the 2009 Vail International Dance Festival are currently on sale as well via the same outlets.

The 2009 Vail International Dance Festival is a project of the Vail Valley Foundation. For further information on the Foundation or the Dance Festival, visit www.vvf.org.


2 Comments on "Vail International Dance Festival offers Performance Plus Pass for $85"