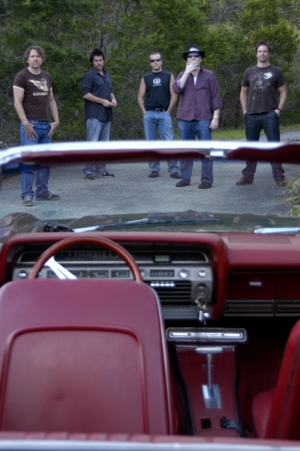 Tickets to the Sept. 25 Blues Traveler show at the Vilar Center in Beaver Creek can be purchased at www.vilarcenter.org or by calling 970-845-TIXS.
Courtesy of Blues Traveler
www.bluestraveler.com
Blues Traveler to play benefit concert at Vilar Center in Beaver Creek
Second annual Millennium Society show features groundbreaking '90s jam band
By realvail.com
September 13, 2007 — John Popper could have been describing the Millennium Society in his lyrics to Blues Traveler's breakout hit "But Anyway" from the early 1990s: "It's a state of affairs and a state of emotions; the kind of thing that you must understand."


Those words aptly describe the Vail Valley charitable organization that passionately fuses philanthropy with festivity, socializing to the tune of $12,000 at last year's Big Head Todd and the Monsters concert and shooting for far more at a Sept. 25 show featuring Blues Traveler at the Vilar Center for the Arts in Beaver Creek.


The Millennium Society will divvy up proceeds from this year's concert between three local nonprofits - the Youth Foundation, Steadman Hawkins Research Foundation and Small Champions – in keeping with its mission of promoting the health, education and well-being of Vail Valley residents, particularly children.


Blues Traveler, the band that effectively launched the jam-rock revolution of the 1990s, for years has fostered strong ties to the Colorado high country, in 2003 releasing a live album recorded at the renowned Red Rocks Amphitheater outside of Denver.


"We love playing in Colorado, and especially up in the mountains," said guitarist Chan Kinchla. "We have a high-energy following in the high country that loves to rock hard for hours – must be something in the air. And this Beaver Creek show rocks because they're just as psyched about raising money for great causes as they are about our music."


Blues Traveler, which founded the wildly popular H.O.R.D.E. (Horizons of Rock Developing Everywhere) Tour in the 1990s, has released eight albums – six of them gold or platinum – and sold more than 10 million discs overall.


Their 1994 album, "Four," which included the Grammy-winning single "Run-Around," went multi-platinum and launched the band into the stratosphere of the jam-band genre. Now a five-man act, Blues Traveler has been touring this past summer in support of its latest album, "!Bastardos!".


"This is huge to have a band of this caliber support the Vail Valley charitable scene and play a venue as acoustically amazing and intimate as the Vilar Center," said Millennium Society co-founder Jill Landman Alfond. "The cost of a ticket to this show buys you much more than just an incredible concert, gourmet food and premium wine and spirits; it's a way to rock out and give back to this great community at the same time."


The Youth Foundation provides and supports programs that serve economically disadvantaged youth from pre-school through college in Eagle County; the Steadman-Hawkins Research Foundation is a nonprofit scientific organization devoted to finding a cure for osteoarthritis; and Small Champions provides skiing and other recreational opportunities to disabled children in Eagle County.


All tickets to the 8 p.m. show - $100 for general seating, $150 for preferred seating and $350 for a meet and greet with the band in the VIP Lounge in the May Gallery – include access to a reception beginning at 6:30 p.m., with premium wine and spirits and appetizers provided by the Dusty Boot. Ray's restaurant in Edwards will be showcasing its new fall menu items in the VIP Lounge.


A silent auction before the show will give concertgoers the chance to bid on trips to Lech, Austria, Las Vegas, New York, a Denver spa and shopping escape at the JW Marriott, or three nights at a ResortQuest condo at ski areas ranging from Aspen to Deer Valley, Utah. There will also be a slew of other goodies, from retail to dining to lodging certificates.


"And because it's a school night, we covered all of our bases by partnering with Activity Sitters – a very trustworthy and reliable local sitting service – to provide a discount to Blues Traveler fans," said Millennium Society co-founder Kristin Kenney Williams. "There's really no excuse not to get your groove on for three very worthy local charities."


Sponsors for this special evening at the Vilar Center include US Bank, RA Nelson, the Dusty Boot, Ray's, KZYR, realvail.com and the Vail Daily.


The Millennium Society is the Vail Valley's "Generation Next" – a likeminded group of thirty, forty and fifty-somethings dedicated to festive philanthropy. The group raises funds for the Youth Foundation, Steadman Hawkins Research Foundation and a third discretionary charity at social events throughout the valley, including an annual fall concert at the Vilar Center for the Arts in Beaver Creek. Go to www.themillenniumsociety.org for more information.


Call 970-845-TIXS or go to www.vilarcenter.org for tickets or call Alfond at Abuzz Creative at 970-376-5860 or Williams at Commfluent, LLC, at 970-479-1182 for more information about the Millennium Society.


Comment on "Blues Traveler to play benefit concert at Vilar Center in Beaver Creek" using the form below