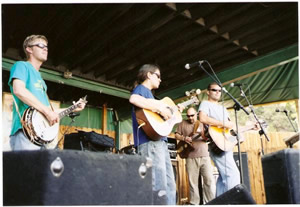 Local band The Laughing Bones is part of a benefit jam session this Memorial Day Weekend at Rancho del Rio, where the community will come together for the Vail-based Central America Foundation.
Courtesy of The Laughing Bones
Camp for a cause as Vail-based Central America Foundation rocks Rancho del Rio
By realvail.com
May 22, 2009 — The Vail-based Central America Foundation (CAF) is asking everyone to camp out -- and rock out -- for a cause this weekend at Rancho del Rio this Memorial Day Weekend.

Founded in 2007, the Central America Foundation/ raises funds for supplies and support for educational, medical and cultural causes in poverty-stricken Central American counties.

The charge for two days of music and camping at Rancho, five miles north of State Bridge on the banks of the Colorado River, is just $25. Click here for ticket information.

The event runs Sunday, May 24 (3 p.m. to 1 a.m.) through Monday, May 25 (11 a.m. to 6 p.m. Bands and DJs include Bonfire Bub, The Laughing Bones, Tony G, Black Bridge, Third Wind, DJ Adam Ross, DJ Hal, The Wall-Bangers, Fidelity Underground and special guest DJ Logic.

The event is $25 for both days, which includes camping, affordable food and drinks, swimming, rafting, floating and chilling. There will also be yoga, drum circles and kids activities.



Comment on "Camp for a cause as Vail-based Central America Foundation rocks Rancho del Rio" using the form below