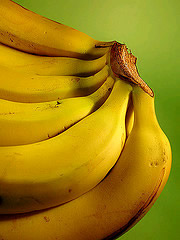 Eagle is going bananas for biking with a bunch of great dining, shopping, cycling deals
By realvail.com
May 27, 2009 — The town of Eagle is going bananas, literally.

Through the end of May, the "down-valley" town invites guests to experience Eagle County's first-class biking trails while indulging in special offers from area merchants and restaurants.

This promotion, put on by One Eagle - the local non-profit community association - is focused on showcasing all that Eagle has to offer.

Special events, promotions and restaurant deals will ensue until May 31. Considered the area's banana belt, with an elevation of 6,600 feet above sea level and seasonal temperatures virtually year-round, all participating businesses will offer related deals such as:

$66 dinner for two with a bottle of wine

$6.60 lunch specials

$66 massages, tanning and acupuncture treatments

$66 bike jerseys and $6.60 socks

$66 and 66 percent discounts at local retailers

In keeping with the theme, banana specialty drinks and desserts will be made available along with complimentary bike trail maps and even some free bananas.

Eagle will also be the first town in the county with a community bicycle program. Green bikes will be made available throughout town allowing people to have ready access to these public bikes rather than rely on their own bikes.

By making alternatives to motorized travel easily accessible, One Eagle, the organization responsible for Green Bikes, hopes to reduce the carbon footprint of commuting as well as enable residents to become healthier through exercise.

Eagle residents have appreciated their biking mecca for years. Now, they look forward to reaching out and sharing these hidden gems with locals and visitors alike.

Visit www.bikesandbananas.com to view the complete list of participating businesses and the events calendar.




Comment on "Eagle is going bananas for biking with a bunch of great dining, shopping, cycling deals" using the form below