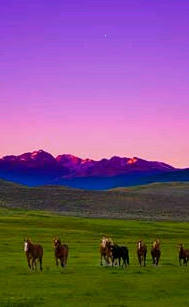 4 Eagle Ranch swings into summer with 'First Thursdays!' Country Western Dance Nights
By David O. Williams
June 3, 2009 — 4 Eagle Ranch north of Wolcott and about 25 minutes from Vail kicks up its heels this Thursday, June 4, with the inaugural "First Thursdays!" Country Western Dance Night, which will now take place the first Thursday of every month.

In its bid to get more locals as well as visitors taking advantage of the valley's most-authentic western dude-ranch-style destination, owner Tom Backhus is looking for niches to fill with low-cost, fun-filled events.

"There's no place to country western dance anymore," Backhus said of First Thursdays, which will take place in the ranch's old, remodeled carriage house. "The bars don't do it anymore, and we're such an original, western setting, so it just fits."

The cost is $5 at the door, with a light menu available for between $4 and $7, including 4 Eagle's signature ribs and chili. Dance lessons from Dean and Linda Wolz will be offered from 6 to 7 p.m., and then Randall McKinnon and His Roadhouse Band play from 7 to 10 p.m., with a full cash bar available.

Long a destination for private and corporate events, 4 Eagle is reinventing itself in the current economic climate, becoming more of an activity center for locals and visitors alike. Site of the annual Wild West Day fundraiser for Eagle County schools, where more than 4,000 locals descend on the ranch, 4 Eagle is now offering events and activities to those families to return on a regular basis.

Besides horseback riding and hay rides (sleigh rides in the winter), 4 Eagle Ranch also now offers fun family events like zip lines, rafting and rock climbing. Starting in July, 4 Eagle will reintroduce its popular Western Family Night.

4 Eagle Ranch is located four miles north of Wolcott on Highway 131. Wolcott is 20 miles west of Vail on Interstate 70.

For more information on 4 Eagle Ranch and all it has to offer, call (970) 926-3372, go to www.4eagleranch.com, or e-mail info@4eagleranch.com.


Comment on "4 Eagle Ranch swings into summer with 'First Thursdays!' Country Western Dance Nights" using the form below