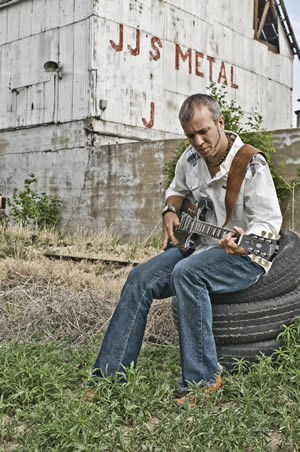 JJ Grey and Mofro kick off the free Bud Light Hot Summer Nights concert series Tuesday at Vail's Ford Amphitheater.
Courtesy of
vvf.org
JJ Grey and Mofro open free Hot Summer Nights concert series Tuesday
By realvail.com
June 13, 2009 — Summer in the Vail Valley will officially commence on Tuesday evening, June 16, as Southern musical storyteller JJ Grey and Mofro kickoff the 2009 Bud Light Hot Summer Nights free concert series, bringing a healthy dose of down home roots rock and soul to the Gerald R. Ford Amphitheater.

Growing up in the swamplands of northern Florida, Grey's songs often use the loss of his natural surroundings and the marginalization of the Southern culture he was raised in as a metaphor for universal truths. His songs blend front porch realism with the best musical and literary traditions of the South, whether it is a narrative passed down from his grandmother or the tribulations of a childhood friend.

The band, named for a lumberyard where Grey used to work, delivers his material with brilliant musicianship, resulting in music that is thought provoking, rhythmically dynamic and texturally mesmerizing. Grey's songwriting influences are widespread.

"I listen to people who tell the story," he says, naming Muddy Waters, Stevie Wonder, Jerry Reid, Otis Redding, Van Morrison and Bill Withers. As a performer, he is influenced by the sexually charged blues of Howlin' Wolf, the country soul of George Jones, the hard funk of James Brown and the smooth R&B of Donny Hathaway, along with local personalities like street preachers and radio disc jockeys of his youth.

A National Public Radio feature in 2001 brought Grey's music to more people than ever before as doors began to open for press, radio and venues across the country. The band performed at Bonnaroo and opened for Widespread Panic, Ben Harper, Galactica, B.B. King and Jeff Beck, while festival and show bookings included Austin City Limits and the New Orleans Jazz and Heritage Festival.

From gritty funk to juke joint romps to contemplative country soul to blistering rockers, JJ Grey and Mofro occupy a distinctive space in the music world. And like the best of the great Southern novelists, Grey fills his stories and songs with details that are at once vivid and personal, political and universal. His songs will make you smell the cypress trees, feel the hot breeze, taste the ho-cakes and remind you that home is indeed where the heart is.

The opening 2009 Bud Light Hot Summer Nights free concert, featuring JJ Grey and Mofro, is presented by Donna Giordano, with this week's Bud Light Post Party hosted at Samana Lounge. The gates of the Ford Amphitheater will open at 5:30 p.m. and JJ Grey and Mofro will hit the stage at 6:30 p.m.

The Bud Light Hot Summer Nights free concert series and the Gerald R. Ford Amphitheater are projects of the Vail Valley Foundation.

For additional information, call (970) 949-1999 or visit www.vvf.org.


Comment on "JJ Grey and Mofro open free Hot Summer Nights concert series Tuesday" using the form below