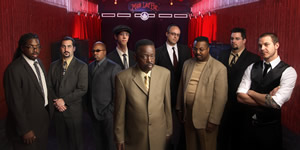 Super soulful sounds of the Dynamites provide for funky second installment of Hot Summer Nights
By realvail.com
June 21, 2009 — If your bag is straight-up, bad-ass deep funk and super soul, then look no further than the Gerald R. Ford Amphitheater on Tuesday evening, June 23, as The Dynamites featuring Charles Walker rekindle funk's original flame for the second installment of the 2009 Bud Light Hot Summer Nights free concert series.

The 10-piece band from Nashville, Tenn., generates super soul excitement via the funkiest group of players imaginable and a front man with the voice and experience to blow the roof off.

Charles "Wigg" Walker is a veteran soul man, having recorded numerous sides in the '60s and '70s for many of the classic labels. His recordings as "Little Charles & The Sidewinders" produced a cult following on England's northern soul scene and earned a reputation as one of the hottest acts on the New York club scene.

But the man is not ready to rest on his past achievements. Having seen a resurgence of interest in his career thanks to inclusion on the second volume of the "Night Train To Nashville" collections of Nashville-based soul and R&B from back in the day, Charles began performing live in the Nashville area again which brought him to the attention of a hungry young band leader looking for an authentic voice to front a new funk band project.

Bill Elder (aka Leo Black) had the concept for a funk and soul revue brewing in the back of his mind for a long time. Over a two year period, the band slowly coalesced around Bill, with only the front man spot as the final missing piece. Enter Charles Walker and The Dynamites were born! Taking the stage at their debut gig, the 9-piece band plus super soul singer "blew the roof off... fully earning the implications of their name".

If this all sounds retro, think again. The Dynamites are far from being alone in their second millennium pursuit of rekindling funk's original flame. A renaissance of funk and soul is snatching up listeners from coast to coast and beyond. As the New York Times wrote, "more than at any time in recent memory, soul music's pressing syncopation and stirring hollers are churning within the popular mainstream."

For Walker, finding songwriter Elder has been an epiphany. More importantly, he's found in Elder a songwriter that writes for his voice, which stands in sharp contrast to the days when he was asked to record songs whether they inspired him or not.

"I didn't have the songs that I felt were right for me," says Walker. "Now I can pick and choose the songs I want to do. I can remember being under so much pressure to try and get a hit record. Now I'm just in there doing what I like to do."

All Bud Light Hot Summer Nights free concerts get underway at 6:30 p.m. and the gates of the Gerald R. Ford Amphitheater open at 5:30 p.m. The June 23 Bud Light Hot Summer Nights free concert, featuring The Dynamites with Charles Walker, is presented by Vogelman West Associates, with this week's Bud Light Post Party hosted at Vendetta's.

The 2009 Bud Light Hot Summer Nights series is a project of the Vail Valley Foundation. For additional information on Bud Light Hot Summer Nights, visit www.hotsummernightsconcerts.com.


Comment on "Super soulful sounds of the Dynamites provide for funky second installment of Hot Summer Nights" using the form below