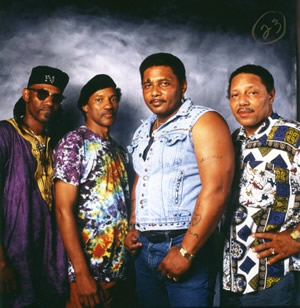 The Neville Brothers play a free show just prior to the fireworks at Beaver Creek on the Fourth of July.
Courtesy of
.nevilles.com
Neville Brothers to play free show before fireworks at Fourth of July party in Beaver Creek
By realvail.com
June 24, 2009 — Celebrate Independence Day in the mountains with two free performances on the Beaver Creek back lawn next to the Centennial Express Lift, including a headliner show by the famed Neville Brothers of New Orleans.

But first check out a performance by Alto Reed's Blues Entourage featuring Alto Reed from The Bob Seger Band and George Terry, the guitarist for Eric Clapton.

The legendary Neville Brothers then take the stage just before a spectacular fireworks show under the high-altitude stars.

And don't miss the best dinner deal in town that night with a full meal from the Park Hyatt for only $5. Bring the whole family and enjoy the outdoors with live music, a picnic, and free fireworks.

Alto Reed's Blues Entourage takes the outdoor stage from 6-7:30 p.m. on July 4, and the Neville Brothers concert begins at 7:45 p.m. The fireworks display over Beaver Creek Mountain follows at 9:15 p.m.

All performances take place on the Beaver Creek lawn, next to the base of the Centennial Express Lift (Chair No. 6). Get a lawn picnic courtesy of the Park Hyatt for only $5 with additional beverages available for purchase.

Or experience a New England beach side tradition high on Beaver Creek Mountain at the 17th annual Beano's Cabin Fourth of July Clam Bake and Barbecue from 11 a.m.-4 p.m. on July 4.

Enjoy a buffet of seafood and barbecue fare plus a variety of salads and desserts. Mac and cheese and chicken fingers will be offered for the little ones. Live music and lawn games are offered for kids and adults.

Cost is $55 for adults and $25 for children ages 6-12 and kids 5 and under dine for free. Reservations are required. Call (970) 754-3463.

On July 3, head to the Town of Avon for the largest fireworks display in the Colorado Rockies as more than 10,000 shells explode in the sky above Nottingham Lake.

Avon's famous Salute to the USA celebration also offers live music, food and craft vendors, a beer garden and a family zone beginning at 5 p.m. This annual hallmark event draws 20,000 spectators and the 9:45 p.m. fireworks display is set to a
musical score and is broadcast across the valley.

Admission is free. Visit www.avon.org.

On July 2, begin your Fourth of July celebration at the Beaver Creek Rodeo Series where bull riding, calf roping, and barrel racing offer non-stop action at this traditional ski town rodeo.

Kids love the pony rides, face painting and mutton bustin'. Food lovers can enjoy Western barbecue and offerings from other local restaurants including Dusty Boot, Fiesta Jalisco, Moe's Barbecue, Occasionally Keegan, Rimini and many more. Kids 12 and under receive free admission.

Finally, experience Beaver Creek your way this summer with the My Way package. It includes up to 30 percent off of lodging and 20 percent off of activities for the entire family. Book online at Beavercreek.com/my
way or call (888) 605-7579.

For more information on activities or lodging in Beaver Creek, visit Beavercreek.com or call (970) 845-9090.

Comment on "Neville Brothers to play free show before fireworks at Fourth of July party in Beaver Creek" using the form below