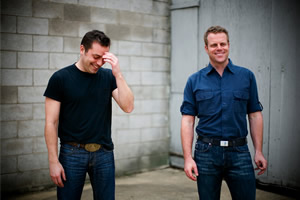 Jackopierce plays a free show Tuesday at the Ford Amphitheater in Vail.

Jackopierce plays free Hot Summer Nights show at Vail's Ford Amphitheater Tuesday, June 30
By realvail.com
June 28, 2009 — One of the hardest working bands of the 90's will bring their own "Promise of Summer" to the Gerald R. Ford Amphitheater Tuesday evening, June 30, as acoustic duo Jackopierce kick off the 4th of July weekend with a free Bud Light Hot Summer Nights show.


Guitarists/singers Jack O'Neill and Cary Pierce founded the duo in 1988, while both were attending Southern Methodist University in Dallas as theater majors. Honing a charmingly simple, low-key sound, centered around vocal harmonies and acoustic guitars, the two developed a strong local following around the Dallas area, slipping under the mainstream's radar to earn a widespread following on college campuses.

Over the next 10 years, Jackopierce literally traveled the world, racking up three continents, 10 countries and 44 of the 50 states. The duo sold out venues everywhere they went, sharing stages with the likes of the Dave Matthews Band, Matchbox 20, Counting Crows, The Wallflowers, Sheryl Crow, Lyle Lovett and many others.

However, all good things must come to an end it seems, and in 1997, O'Neill and Pierce decided to go their separate ways and embarked on a national farewell tour. While both continued to write and record on their own, the two did not speak to one another for nearly five years.

"I had just had enough," recalls O'Neill. "I couldn't just take a break; I needed it to be over. I needed to find myself, outside of being the guy from Jackopierce."

Eventually, both O'Neill and Pierce would release solo records, but neither of them would reach a fraction of the success that they had achieved together. Rumors circulated about a possible reunion for years and finally, in the summer of 2002, their old manager, Brady Wood and his brother, Brandt, got together and started making the idea a reality.

"The timing could not have been better," says Pierce. "I was in the middle of a painful divorce, and it seemed as though my life was falling apart. Brady and I started scheming on the phone about the reunion while Brandt was working on Jack."

Older and wiser, both are now fathers and their priorities have undergone significant changes.

"We both admit that we did not realize or appreciate what we had," says O'Neill. "There is a lot more gratitude for each other and for the gifts we have to write and play music."

"We have been blessed with the ability to strap guitars on our backs, get on a plane, and go play a show anywhere in the country," adds Pierce. "That is the career I always hoped we would have."

To celebrate their two decades together and apart, Jackopierce released a new CD, "Promise of Summer", in September of last year. The 11-song disc contains 10 brand-new songs and includes a remake of a Jackopierce classic, "March".

"The best part about producing this record," concludes Pierce, "is that I'm a Jack O'Neill fan. He's a great writer and he's got an old soul. He's from a huge, Irish, military family from Pittsburgh. There's just a depth to him that no one can really get to."

The June 30 Bud Light Hot Summer Nights free concert, featuring Jackopierce, is presented by Gallegos Masonry, with this week's Bud Light Post Party hosted at Ski Bar. The gates of the Ford Amphitheater will open at 5:30 p.m. and Jackopierce will hit the stage at 6:30 p.m.

The Bud Light Hot Summer Nights free concert series and the Gerald R. Ford Amphitheater are projects of the Vail Valley Foundation. For additional information, call (970) 949-1999 or visit www.vvf.org.


Comment on "Jackopierce plays free Hot Summer Nights show at Vail's Ford Amphitheater Tuesday, June 30" using the form below