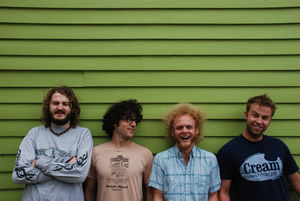 Frogs Gone Fishin' plays the Gerald R. Ford Amphitheater for free Tuesday, July 7.
Courtesy of
vvf.org
Public pick band Frogs Gone Fishin' featured at free Hot Summer Nights show
By realvail.com
July 6, 2009 — The public's voice was heard and now it's time for Denver natives Frogs Gone Fishin' to be heard Tuesday evening, July 7, at the Gerald R. Ford Amphitheater for the next installment of the Bud Light Hot Summer Nights free concert series.

Frogs supporters literally hopped on the bandwagon in April to ensure their favorite would hit the Ford Amphitheater stage as the band literally left the competition in their wake in the online Public Pick Poll, garnering 6,306 of the total 13,534 votes cast. The poll featured a total of eight bands vying for the right to be featured at the July 7 free concert.

As a reward for their trust, Frogs Gone Fishin' will take the audience on a journey through a vast repertoire of rock, funk, soul, blues and reggae. After growing up in Denver, the four members of Frogs attended schools in different cities, including New Orleans, Nashville and Boston, allowing them to experience some of the most interesting music scenes in the nation.

In the spring of 2008, following the completion of their formal education, the Frogs regrouped in Denver to begin an extended period of touring throughout Colorado and the U.S. Their first studio album, "Tell Me True", is a reflection of the various influences they absorbed during their travels, recorded over the course of a year and a half.

Comprised of Trevor Jones on lead guitar, Andrew Portwood on guitar, Mark Levy on drums and Steve Rogers on bass, Frogs Gone Fishin' was named one of Denver MetroMix's Most Interesting Local Bands of 2008.

The July 7 Bud Light Hot Summer Nights free concert, featuring Frogs Gone Fishin', is presented by McHatten Creek Ranch, with this week's Bud Light Post Party hosted at The Club. The gates of the Ford Amphitheater will open at 5:30 p.m. and Frogs Gone Fishin' will hop onstage at 6:30 p.m.

The Bud Light Hot Summer Nights free concert series and the Gerald R. Ford Amphitheater are projects of the Vail Valley Foundation. For additional information, call (970) 949-1999 or visit www.vvf.org.


Comment on "Public pick band Frogs Gone Fishin' featured at free Hot Summer Nights show" using the form below