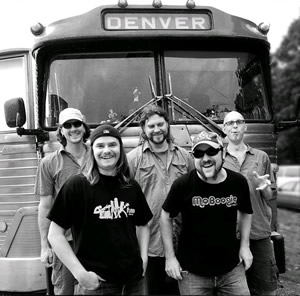 Denver's Oakhurst to play free Bud Light Hot Summer Nights concert in Vail July 14
By realvail.com
July 11, 2009 — Denver-based Oakhurst blends deep Appalachian roots and highly original songs with traditional bluegrass, indie-rock and a definite citybilly attitude, more rustic and rocking than typical Rocky Mountain bluegrass.

Call it Mountain Guerilla Grass or whatever you will, Oakhurst will bring their unpretentious, go-for-it interpretation of a genre that is often handled too reverently to the Gerald R. Ford Amphitheater for the Tuesday, July 14, installment of the Bud Light Hot Summer Nights free concert series.

Oakhurst's work ethic and road hardened sound has made them one of the most successful acts calling Colorado home, while earning them the chance to perform at legendary venues like the Filmore and Red Rocks. Last year alone, the band played multiple major festivals, 33 states and 13 countries across Europe and the Caribbean.

Comprised of AP Hill on lead vocals and acoustic guitar, Zach Daniels on vocals and banjo, Adam "Tarzano" Smith on mandolin, Johnny James Qualley on stand-up bass and Chris Budin on vocals and percussion, Oakhurst sparks interest in bluegrass by folks who don't know Doc Watson from Doc Holliday.

The band has been steadily building a following since their first independent release in 2001 with their hybridized, hard-to-categorize sound, earning accolades in various genres, ranging from alt country to Americana. So what are they exactly?

First and foremost, Oakhurst is bluegrass. The group has cut its chops laying out blistering banjo, mandolin and acoustic collaborations, along with spot-on harmonies, for some 200 shows a year.

Their broad appeal and nebulous style has earned them spots on stages with very diverse national talent, including the likes of John Mayer, The Flaming Lips, Emmylou Harris, Barenaked Ladies, Patti Griffin, Lyle Lovett and Lynyrd Skynyrd.

The July 14 Bud Light Hot Summer Nights free concert, featuring Oakhurst, is presented by Lakota River Guides, with this week's Bud Light Post Party hosted at The Red Lion. The gates of the Ford Amphitheater will open at 5:30 p.m. and Oakhurst will hit the stage at 6:30 p.m.

The Bud Light Hot Summer Nights free concert series and the Gerald R. Ford Amphitheater are projects of the Vail Valley Foundation. For additional information, contact (970) 949-1999 or visit www.vvf.org.


Comment on "Denver's Oakhurst to play free Bud Light Hot Summer Nights concert in Vail July 14" using the form below