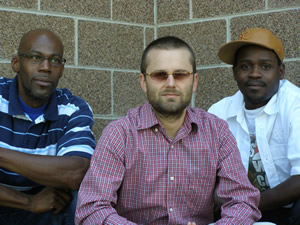 The Matt Clark trio.
Courtesy of
vvf.org
Matt Clark trio brings world beat sound to free ShowDown Town concert in Eagle
By realvail.com
July 14, 2009 — California's Matt Clark has been called the "true package deal." That package will be delivered to Eagle Town Park Thursday, July 16, as the singer/songwriter brings his band and their unique world beat sound to the third installment of the American National Bank ShowDown Town free concert series.

Blending elements of rock, blues, reggae, folk and R&B in a new way, the Matt Clark Band offers up a cutting edge sound with a purpose that has wowed audiences around the West. His solo shows and those with the band come complete with electric energy, great vocals and rhythmic instrumentation.

With a mission of uplifting a global audience with powerful music, a Matt Clark Band show is comprised primarily of original hits, along with an occasional tribute to one of the greats.

Clark, on lead vocals and electric guitar, is backed by Berenger Ouedraogo on bass and Sherman Arnold on drums. The trio's musical chemistry makes them one of the hottest things to come out of Colorado in many years, with an eclectic "World Rock" beat that comes complete with a positive family-friendly message, leaving listeners feeling both good and inspired.

Presented by the Town of Eagle, all American National Bank ShowDown Town concerts get underway at 6:30 p.m., with weekly kid's activities also highlighting the family friendly evenings in the park.

Additional free shows in July will include the reggae styles, down-tempo and dub of Bonfire Dub on July 23; and the acoustic style bluegrass of Grass It Up to round out the series on July 30.

The 2009 American National Bank ShowDown Town, presented by the Town of Eagle, is a project of the Vail Valley Foundation. For additional information on the free concert series check out www.showdowntownfreeconcerts.com or the Foundation, visit www.vvf.org.


Comment on "Matt Clark trio brings world beat sound to free ShowDown Town concert in Eagle" using the form below