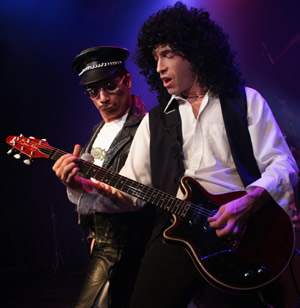 Queen Nation tribute band will rock you for free at Hot Summer Nights show in Vail
By realvail.com
July 19, 2009 — Freddie Mercury rules the stage once again July 21 as Queen Nation takes the Gerald R. Ford Amphitheater by storm, armed with enough legendary Queen hits from the 70's and 80's to rock both -you and the Bud Light Hot Summer Nights free concert series.

Formed in 2004, Queen Nation consists of Joe Retta on vocals & keyboards as Freddie Mercury, Mike McManus on guitar as Brian May, Pete Burke on drums as Roger Taylor, and Parker Combs on bass as John Deacon. The mission of the show is to carry on the musical torch, paying homage to the golden age of Queen.

The band preserves the image, sound, and stage persona of vintage Queen, with audiences amazed at the accuracy of Queen Nation's live retrospective journey through such Queen songs as "We Will Rock You", "Bohemian Rhapsody", "We Are The Champions", "Crazy Little Thing Called Love", "You're My Best Friend", "Another One Bites The Dust", "Under Pressure" and many more.

There is little doubt among the pure rock community that Queen and lead performer Mercury earn high ranks as one of the most powerful and iconic groups in rock history. The kings of arena rock, Queen performed to packed stadiums around the globe for over two decades.

Mercury took showmanship by a rock front man to a new untapped level and was indisputably crowned the lord of arena rock. He mesmerized audiences with his charismatic energy and larger than life stage persona until his untimely death in 1991. Since then, a huge void has existed in the rock concert world that has not yet been matched.

However, Queen Nation comes close. Retta does a fantastic job recreating the presence of Mercury, never an easy thing, while McManus does an excellent job of pulling off Brian May, replicating his signature stage moves and even though he plays left-handed, he jams one of May's well known custom model guitars and his trademark curly hair, recreating his parts pretty much note-for-note. Burke pounds a flashy sparkle finish kit and sports the raspy voice Roger Taylor was known for, while Combs covers his melodic bass parts with ease.

All Bud Light Hot Summer Nights free concerts get underway at 6:30 p.m. and the gates of the Gerald R. Ford Amphitheater open at 5:30 p.m. The July 21 Bud Light Hot Summer Nights free concert, featuring Queen Nation, is presented by Comcast, with this week's Bud Light Post Party hosted at The Tap Room.

The 2009 Bud Light Hot Summer Nights series is a project of the Vail Valley Foundation. For additional information on Bud Light Hot Summer Nights, visit www.hotsummernightsconcerts.com.


Comment on "Queen Nation tribute band will rock you for free at Hot Summer Nights show in Vail" using the form below