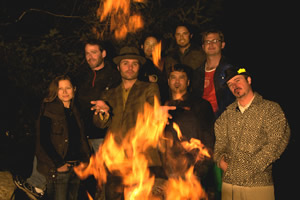 Bonfire Dub plays free ShowDown Town concert in Eagle
By realvail.com
July 20, 2009 — "Marley Meets Morcheeba" July 23 in Eagle as Scotty Stoughton's Bonfire Dub brings their acoustic dub and huge harmonies to the park for the next-to-last edition of American National Bank ShowDown Town.

Offering up a mix of originals and covers by the Marleys, Steel Pulse, Morcheeba and Sublime, Bonfire Dub rolls out deep thick beats, surrounded by four-part harmonies in a reggae, dub and downtempo style.

"We are truly doing the music we love", explained Stoughton, "keeping it simple and deep. Plus, we don't take it too seriously and we're having the best time on stage."

Stoughton toured nationally with Leftover Salmon, laying down the first ever "rap-grass" and sitting in with the likes of Sam Bush, Bela Fleck and more.

After taking a few years off from the road, he began working on a solo record, the desire to play the new tracks live leading to the formation of Bonfire Dub.

Presented by the Town of Eagle, all American National Bank ShowDown Town concerts get underway at 6:30 p.m., with weekly kid's activities also highlighting the family friendly evenings in the park.

The final free American National Bank ShowDown Town concert will feature the acoustic style bluegrass of Grass It Up, rounding out the series on July 30.

The 2009 American National Bank ShowDown Town, presented by the Town of Eagle, is a project of the Vail Valley Foundation. For additional information on the free concert series check out www.showdowntownfreeconcerts.com.


Comment on "Bonfire Dub plays free ShowDown Town concert in Eagle" using the form below