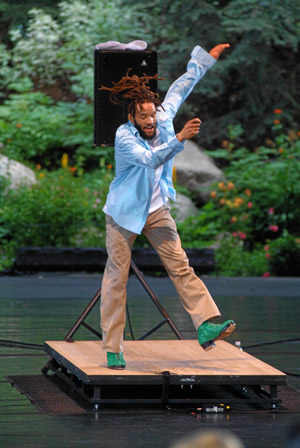 Tap dancer Savion Glover opens the Vail International Dance Festival July 27.
Courtesy of
vvf.org
Savion Glover and his 'Happy Feet' kick off Vail International Dance Festival
By realvail.com
July 20, 2009 — Family will be the focus for the Vail International Dance Festival's opening night as tap dancer extraordinaire Savion
Glover makes his triumphant return to Vail July 27-28 for two
action-packed performances.

Both shows, Monday, July 27, at the Gerald R. Ford Amphitheater,
and Tuesday, July 28, at the Vilar Performing Arts Center in Beaver Creek, will feature special ticket prices for children 12 and under.

Children's tickets for the July 27 Amphitheater show are priced at $10, while the July 28 UpClose performance at the Vilar Center children's price is $30.

"These nights with Savion Glover will be a wonderful chance to
enjoy the greatest tap dancer on the planet like never before,"
said Damian Woetzel, director of the Vail International Dance
Festival. "The audiences will see the music and hear the dancing as he shows us all how he makes sound and motion inseparable."

The prelude to Savion will begin on Friday, July 24, as the Vilar
Center will host a free family screening of the animated hit movie "Happy Feet" at 6:30pm. Glover created the dance magic for the film, serving as co-choreographer while also dancing for Mumbles, the movie's penguin star, thanks to high tech motion capture technology.

The free showing of "Happy Feet" is a special bonus addition to the Vilar Center's Free Family Film Series, which is underwritten by the Beaver Creek Merchants Association.

In addition to the movie, families will also have a pre-show
opportunity to learn some tap dance basics, with a free demonstration and instruction, beginning at 5:30 p.m. in the Vilar Center lobby, courtesy of students and teachers from the Vail Valley Academy of Dance.

Once at the July 27 Ford Amphitheater performance, families will
also be able to take advantage of a special "Dance & Dogs" meal deal, with a complete meal for four from the concession stand for only $25.

The meal will include four all beef hot dogs or veal bratwurst, four bags of chips, four sodas and four candy bars. The Dance & Dogs meal deal would normally retail for $52.

A Tony Award winner for Bring in Da Noise, Bring in Da Funk, Glover has collaborated on an incredible range of projects during the course of his illustrious career, from music videos with P Diddy to films with Spike Lee, appearances on Sesame Street and a recent tour of tap dancing to classical music favorites.

The July 27 Amphitheater performance will also feature live music
with tap band Bare Soundz, along with accompaniment jazz quartet The Otherz.

The July 28 UpClose show at the Vilar Center will features
discussion, demonstration and performance, with the audience getting a first hand look at both the artist and his art form.

So round up the family and celebrate the return of Savion Glover,
the greatest tap dancer on the planet, July 27-28 at the 2009 Vail International Dance Festival.

Tickets for Savion Glover are priced at $55 and $75 for Reserved
Amphitheater pavilion seating, $17 for General Admission lawn seating and $10 for children for the July 27 performance.

Tickets for the July 28 UpClose evening are priced at $45 and $55
at the Vilar Performing Arts Center, with a special $30 children's ticket also available.

Tickets for all performances of the 2009 Vail International Dance
Festival are available online at www.vaildance.org or by phone at either (970) 845-TIXS (8497) or 888-920-ARTS (2787).


Comment on "Savion Glover and his 'Happy Feet' kick off Vail International Dance Festival" using the form below