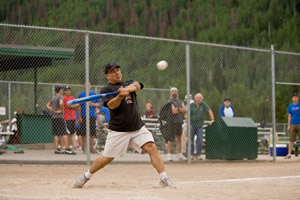 Joseph Alessi, Principal Trombone of the New York Philharmonic, swings for the fences in last year's Town of Vail softball game.
Photo by Chris Lee / New York Philharmonic
New York Philharmonic takes on Vail cops, firefighters in charity softball game at Vail's Ford Park
By realvail.com
July 26, 2009 — For the second year, the New York Philharmonic will exchange instruments for gloves when it challenges the Vail Police Department in the Jerome Ashby Memorial Softball Game.

The community is encouraged to attend the game and bring donations of nonperishable food items to kick off the ninth annual "Make a Difference Day" food drive coordinated by the Vail Police Department.

The game will take place at 5 p.m., Tuesday, July 28 on the west ball field at Ford Park and will be played in memory of Jerome Ashby, the Philharmonic's former Associate Principal Horn and Principal Wagner Tuba. Ashby, who joined the Orchestra in 1979, passed away last year after a prolonged battle with prostate cancer.

The Philharmonic initiated the softball challenge last year and hopes to expand attendance this year. The friendly game will pit Philharmonic musicians – including Music Director Designate Alan Gilbert and Principal Cello Carter Brey – against representatives of Vail police, fire and emergency services departments. Town Manager Stan Zemler will also be on the field.

The New York Philharmonic will perform six concerts, July 24-31 as part of its seventh annual summer residency at Bravo! Vail Valley Music Festival's Gerald R. Ford Amphitheater.

Donations will be collected during the game for pantries throughout Eagle County in partnership with the Salvation Army, Bright Future Foundation and Food Rescue Express.

Non-perishable items such as canned goods, rice, beans, pasta, cereal and juices are needed. Cash donations or checks made out to "TOV Make a Difference Day" are also appreciated.

Food pantries throughout Eagle County are having a difficult time keeping up with the spike in demand.

"Last year, we had a total of 359 visits to our food pantry. This year we have had more than 100 visits every month," said Tsu Wolin-Brown, director/case worker with the Vail Valley Salvation Army. "It's increasingly difficult to meet the demand as supplies deplete within weeks. We don't know what we'd do without the help of organizations like the Vail Police Department."

To help meet the growing need Vail has set an ambitious goal to collect 400,000 pounds of food.

"I'm proud of the way the community comes together each year to help our neighbors and friends," said Moses Gonzales, Vail code enforcement officer and food drive organizer.

The drive will continue through Oct. 24 for "Make a Difference Day" —the nation's largest day of volunteering sponsored by the Points of Light Foundation.

For information about the food drive, contact Gonzales at (970) 479-2208 or email mgonzales@vailgov.com.


Comment on "New York Philharmonic takes on Vail cops, firefighters in charity softball game at Vail's Ford Park" using the form below