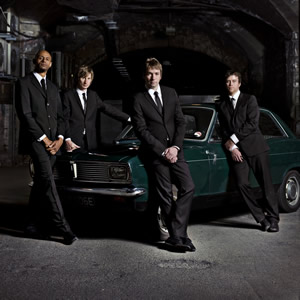 English jazz-soul-funk band New Mastersounds to play free Hot Summer Nights show in Vail
By realvail.com
July 26, 2009 — Imagine early American jazz legends Grant Green and Lou Donaldson having a fight in a Hammond Organ shop while James Brown holds their coats and you might have some idea of what to expect when England's The New Mastersounds bring their unique blend of vintage soul-jazz, funk and rock to the Ford Amphitheater for the July 28 edition of Bud Light Hot Summer Nights.

The four-piece band, based in Leeds, England, delivers gritty grooves and deep rhythms, leaving audiences intoxicated by the funk. But purists beware, the musical concoction that is The New Mastersounds is hard to sum up, not fitting neatly into any one particular genre.

In the late 1990's, guitarist and producer Eddie Roberts was running a nightclub in Leeds called "The Cooker". When the club moved into a new venue with a second floor in 1999, there was space and the opportunity to put a live band together to complement the DJ sets.

Roberts and Simon Allen had played together in 1997 as The Mastersounds, though with a different bassist and no organ. Through friends and the intimate nature of the Leeds music scene, Pete Shand and Bob Birch were added on bass and Hammond respectively, and The New Mastersounds were born.

Though it was raw, and more of a boogaloo sound at first, it was powerful from the start. Their first rehearsal was hot enough for Blow it Hard Records to release two limited-edition 7" singles from the session in 2000.

Since then, the band has released a total of eight albums in the U.S. and the U.K., while Joe Tatton has replaced Birch on keyboards. Their live shows are guaranteed to get audiences "up and dancing until last call, when you'll stagger home sweaty and exhausted on a wave of euphoria".

All Bud Light Hot Summer Nights free concerts get underway at 6:30 p.m. and the gates of the Gerald R. Ford Amphitheater open at 5:30 p.m. The July 28 Bud Light Hot Summer Nights free concert, featuring New Mastersounds, is presented by Gallegos Masonry, with this week's Bud Light Post Party hosted at Los Amigos.

The 2009 Bud Light Hot Summer Nights series is a project of the Vail Valley Foundation. For additional information on Bud Light Hot Summer Nights, visit www.hotsummernightsconcerts.com. For more information on the Foundation, visit www.vvf.org.


Comment on "English jazz-soul-funk band New Mastersounds to play free Hot Summer Nights show in Vail" using the form below