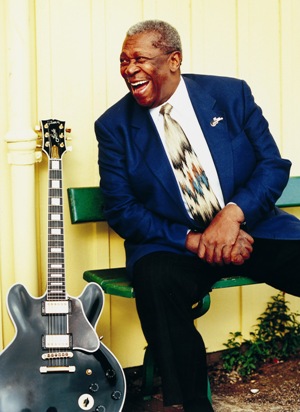 B.B. King plays the Vilar Performing Arts Center in Beaver Creek in April, capping a diverse and entertaining winter season.
Courtesy of the Vilar Performing Arts Center
www.vilarpac.org
Vilar Center unveils 2007-08 schedule
Highlights include B.B. King, Art Garfunkel, Gipsy Kings
By realvail.com
September 26, 2007 — The Tony Award-winning musical "The Producers," return performances by audience favorites the von Trapp Children and The Lettermen, folk-rock legend Art Garfunkel, Latin music sensations the Gipsy Kings and Grammy winning blues icon B.B. King highlight the 10th anniversary season of the Vilar Performing Arts Center (VPAC).


Tickets for the 2007-08 season at the state-of-the-art Beaver Creek theater go on sale in early November, with the exception of "The Producers," which went on sale Monday, Sept. 24.


The announcement of the coming season comes on the heels of a record-breaking summer 2007 season at the VPAC, with sell-out shows including Kenny Loggins, Three Dog Night, Kris Kristofferson and Gordon Lightfoot, and a charity fundraiser Tuesday, Sept. 25, with Blues Traveler.


"We've really raised the bar on our programming in the last few years," said VPAC's Kris Sabel. "This winter is going to be, by far, our most ambitious season yet. And not just the big-name concert acts. This winter you're going to see an incredible quality on the Broadway shows that come through, and our classical music series is off the charts. In all regards, this winter season is going to be a record breaking stretch of shows at the VPAC."


Since opening its doors on Feb. 5, 1998, the VPAC has undergone many changes and has evolved into one of the most respected performing arts venues of its kind. One of the most obvious changes is its new name; slight as it is with only one additional word, it is a move that organizers hope will fit the name better to what the center does.


The full season schedule is listed below, and details can be found at www.vilarpac.org. Tickets go on sale in early November through the box office by calling (970) 845.TIXS (8497) or online at www.vilarpac.org. The Vilar Performing Arts Center is a project of the Vail Valley Foundation.


Nov. 12: "The Producers"


Nov. 28: "Seussical: The Musical"


Dec. 1: Jackie Green


Dec. 7-9: "The Nutcracker": Vail's Friends of the Dance


Dec. 15: Marc Cohn


Dec. 17: "A Viennese Christmas"


Dec. 21: "A Christmas Carol"


Dec. 22: Ottmar Liebert


Dec. 23: The Lettermen Christmas


Dec. 25-26: "Theatre of Illusion" The Spencers


Dec. 27: The von Trapp Children


Dec. 28: An Evening with Colin Mochrie & Brad Sherwood


Dec. 29: Burt Bacharach


Dec. 30: Eroica Trio


Jan. 12: Gandalf Murphy & The Slambovian Circus of Dreams


Jan. 16: Italian Saxophone Quartet


Jan. 17: Pink Floyd Laser Spectacular


Jan. 18-19: "Jesus Christ Super Star" with Ted Neeley


Jan. 20: "Circus Incognitus" with Jamie Adkins


Jan. 25: Hugo Wolf Quartet


Jan. 26: The Beach Boys


Jan. 28: Mad Science: "Newton's Revenge"


Jan. 29: Les Ballets Trockadero de Monte Carlo


Feb. 4: "Great Moments in Opera" Teatro Lirico D'Europa


Feb. 5: "Tosca" Teatro Lirico D'Europa, Puccini's romantic tragedy


Feb. 6: Peking Acrobats


Feb. 9-10: "An Evening on Broadway" Vail Valley Theater Company


Feb. 11: Duncan Sheik


Feb. 12: The Second City


Feb. 17: George Benson


Feb. 19: Russian National Orchestra


Feb. 21: The Temptations


Feb. 28: The Acting Company "The Tempest"


March 4: Diavolo


March 5: "Velveteen Rabbit" Enchantment Theatre


March 9: Gipsy Kings


March 11: Philadelphia Virtuosi


March 13: Capitol Steps


March 15: Chicago Children's Choir


March 16: One Night of Queen


March 26: Camerata Ireland with Barry Douglas


March 28: Art Garfunkel


March 29: "The Sleeping Beauty" Moiseev Russian Classical Ballet


April 9: "Don't Let the Pigeon Drive the Bus"


April 10: B.B. King, Grammy-winning blues legend


April 25: "Teddy Roosevelt & the Treasure of Ursa Major"




Comment on "Vilar Center unveils 2007-08 schedule" using the form below