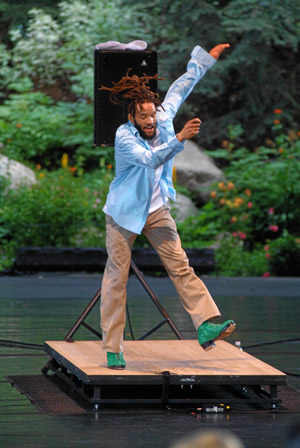 Get 'UpClose' with tap master Savion Glover at Beaver Creek's Vilar Center
By realvail.com
July 27, 2009 — While the sometimes dubious maneuverings of politicians through the ages has forced the dictionary to include a new definition of tap dancing, there will most certainly be no sign of distractions or rationalizations Tuesday evening, July 28, as tap dance wunderkind Savion Glover lets his feet do the talking at 6:30 p.m., with a special "UpClose" evening at the Vilar Performing Arts Center in Beaver Creek.

Glover, acclaimed as the "greatest tap dancer that ever lived" by none other than Gregory Hines, is determined to not only celebrate his art form, but to also propel it forward for future generations.

"My style is young," said Glover. "Funk. I feel like it's one of my responsibilities to keep the dance alive, to keep it out there, to keep the style."

The UpClose evening, which features discussion, demonstration and performance, provides a perfect stage for the greatest hoofer on the planet to show and explain how he makes music and dance inseparable, manipulating his feet to appear that they have more movable joints than physically possible.

"This Up Close evening with Savion will provide a wonderful opportunity for our audience to be both entertained and educated by his dance process," said Vail International Dance Festival director Damian Woetzel, who will also serve as the host of the evening. "Not only will you get incredible insight into Savion's philosophy of tap dance, but you are going to get a one of a kind inside look at one of the greatest dancers that ever lived."

Glover has redefined tap dancing, speaking to the world with a power and ease that has stunned and captivated millions, reverberating with the rhythm of a unique musical language.

Glover opened the 2009 Vail International Dance Festival one night earlier on Monday, July 27, with a full performance at the Gerald R. Ford Amphitheater in Vail, with live musical accompaniment courtesy of tap band Bare Soundz and jazz quartet The Otherz.

Tickets for the July 28 UpClose evening with Savion Glover are priced at $45 and $55, with a special $30 children's ticket also available.

Tickets for all performances of the 2009 Vail International Dance Festival are available online at www.vaildance.org or by phone at either (970) 845-TIXS (8497) or 888-920-ARTS (2787).


Comment on "Get 'UpClose' with tap master Savion Glover at Beaver Creek's Vilar Center" using the form below