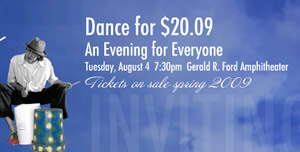 El Sistema kids from Miami to launch VVF's new 'First Notes' program Aug. 4
By realvail.com
August 2, 2009 — The Vail Valley community will get a rare "sneak peek" at one of the Vail Valley Foundation's newest educational initiatives on Tuesday, Aug. 4, when a select group of five 10- to 14-year-old El Sistema students from Miami perform on stage at the Gerald R. Ford Amphitheater prior to the start of the Vail International Dance Festival's "Dance For $20.09" performance.

Based on the El Sistema model and dubbed "First Notes", the Foundation's initiative will involve introducing music to second graders by putting instruments in their hands as part of a pilot after school program. First Notes is slated to initially be introduced into Avon Elementary School in the fall of 2009, with a goal of serving 150 students.

"We are extremely excited about launching the First Notes program," said Ceil Folz, president of the Vail Valley Foundation. "The entire community has seen the success of the Celebrate the Beat program that the Dance Festival helped to introduce and now we have taken on an additional initiative that will have a dramatic impact on our children's lives."

The five Miami-based El Sistema students will entertain the audience with violin and cello music prior to the Dance Festival show, as well as at intermission. There will also be a community introduction of the program for Avon Elementary School parents on August 5 at 7 p.m.

El Sistema, which has been featured on CBS 60 Minutes, has produced extraordinary results during the last 30 years in Latin America and other parts of the world, particularly with children in economically challenged neighborhoods.

Its creator, the Venezuelan musician and educator Jose Antonio Abreu, has proven how the learning process of music in children not only enriches their spiritual and emotional experiences, but also accelerates their learning capacity in other subjects at school, developing and strengthening their ability to relate socially to the fast-paced and competitive world around them.

El Sistema has also inspired the Organization of American States to promote the creation of the Youth Orchestra of the Americas, which made its debut in New York in 2000, under the baton of Plácido Domingo, Gustavo Dudamel and Christopher Wilkinson. The Latin-American Youth Symphony Orchestra was likewise founded, making its debut in 1997.

The Miami El Sistema program is run in conjunction with the Miami Symphony Orchestra and provides opportunities for children throughout the Miami-Dade region.

Tickets for the Aug. 4 Dance for $20.09 performance at the Ford Amphitheater are priced at $20.09 for Reserved pavilion seating and $9 for General Admission lawn seating.

Tickets for all performances of the 2009 Vail International Dance Festival are available online at www.vaildance.org or by phone at either (970) 845-TIXS (8497) or 888-920-ARTS (2787).

The First Notes program and the 2009 Vail International Dance Festival are projects of the Vail Valley Foundation. For more information on the Foundation, check out www.vvf.org.


Comment on "El Sistema kids from Miami to launch VVF's new 'First Notes' program Aug. 4" using the form below