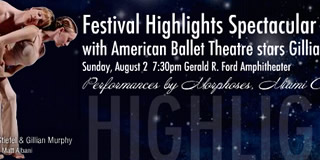 Young local dancers take stage tonight for VVF's Celebrate the Beat program
By realvail.com
August 2, 2009 — The kids have hit the big time.

As some of today's biggest names of dance wait patiently in the wings on Sunday evening, Aug. 2, some of the smallest stars of tomorrow will take the stage as the 2009 summer class of Celebrate the Beat opens the Vail International Dance Festival's "Festival Highlights Spectacular" evening with a special performance on the Gerald R. Ford Amphitheater stage.

First introduced to Vail in 2007 by Festival director Damian Woetzel as a free Dance Festival educational offering for local children, Celebrate the Beat introduces the kids to music, dance, art and self expression, using the award-winning and inspirational National Dance Institute teaching techniques created by Jacques d'Amboise and his staff.

In addition to the one-week program conducted during the Dance Festival, Celebrate the Beat has also been incorporated into the annual curriculum for third to sixth grade students at Avon Elementary School, while also having a presence in numerous other valley-wide elementary schools.

"Celebrate the Beat is a tremendous program," said Woetzel, "and Artistic Director Tracy Straus and her staff have done a masterful job of bringing dance and music to life throughout the Vail Valley for local children. You can see the self confidence and creativity of these students grow by leaps and bounds right in front of your eyes, and the assertion that the arts can help classroom education is being proven right here in Vail."

The 2009 summer edition of Celebrate the Beat got underway on July 27, with 47 students from around the valley. Daily classes run from 9:30 a.m. to 12:30 p.m. at Avon Elementary School.

For their big moment in the spotlight, the CTB students will be joined on stage by Woetzel and special guest partner Argie Tang, with the performance marking the first time that Celebrate the Beat has performed as part of a Vail International Dance Festival evening performance. Tang was the winning bidder on "Dancing with Damian" at the Black Diamond Ball benefit auction last fall, and she and Woetzel decided to do their dance as part of the Celebrate the Beat program which is making such a huge difference for local children.

"I guarantee that these students are going to amaze the audience with their performance," Woetzel said. "Argie and I have been rehearsing with them and have watched them learn an entire dance in the last few days— but what they have really learned, is simply how to learn. This program and these local kids are truly inspiring and I am eager to share the Celebrate the Beat success story with the Dance Festival audience."

Tickets for Festival Highlights Spectacular are priced at $17 for General Admission lawn seating and $55 and $75 for Reserved pavilion seating. Tickets for all performances of the 2009 Vail International Dance Festival are available online at www.vaildance.org or by phone at either (970) 845-TIXS (8497) or 888-920-ARTS (2787).


Comment on "Young local dancers take stage tonight for VVF's Celebrate the Beat program" using the form below