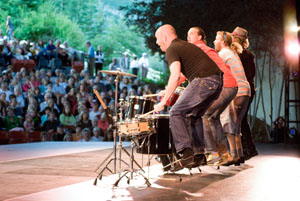 Buckets & Tap Shoes is on tap Aug. 11 at Vail's Ford Amphitheater.
Courtesy of
vvf.org
Buckets & Tap Shoes takes stage at Ford Amphitheater as dance version of Hot Summer Nights
By realvail.com
August 9, 2009 — Since the 19th century, a long line of American "hoofers" have shuffled their way to stardom, including the likes of Fred Astaire, Ginger Rogers, Gene Kelly, Shirley Temple, Gregory Hines, Savion Glover and of course, the penguins in "Happy Feet".

And then there's Buckets & Tap Shoes. Founded by Minnesota brothers Rick and Andy Ausland, Buckets & Tap Shoes' eclectic blend of percussion and dance will be center stage for the Aug. 11 edition of the Bud Light Hot Summer Nights free concert series. Hosted in conjunction with the Vail International Dance Festival, the evening is dubbed "Street Beats".

Since 1997, this unique company of musicians, percussionists and rhythm tap dancers from Minneapolis has astounded audiences, creating intense driving rhythms with 5-gallon buckets, metal cans, barrels, found objects and tap shoes.

According to the Minneapolis Star Tribune, "It 's the new tap generation, and it's funky, fantastically fast, a little bit Zen, and lots of happy". During the course of a performance, the group twirl like ballerinas, suspend themselves on their toes in tap freezes, pitter patter both melody and rhythm with quicksilver speed, and suddenly fold flung out arms, legs and feet into a meditation position.

Their performance combines music and dance creating rhythms with roots in funk, soul, jazz, classical, hip-hop, blues and rock. Buckets & Tap Shoes brings the audience into the show, breaking down the walls between audience and performer. For this special Bud Light Hot Summer Nights performance, Buckets & Tap Shoes will be joined by a collection of top hip-hop dancers from Minneapolis.

The Aug. 11 Bud Light Hot Summer Nights of Dance free concert, featuring Buckets & Tap Shoes, is presented by Venture Sports Avon, with this week's Bud Light Post Party hosted at La Cantina. The gates of the Ford Amphitheater will open at 5:30 p.m. and Buckets & Tap Shoes will hit the stage at 6:30 p.m.

The Bud Light Hot Summer Nights free concert series and the Gerald R. Ford Amphitheater are projects of the Vail Valley Foundation. For additional information, contact (970) 949-1999 or visit www.vvf.org.


Comment on "Buckets & Tap Shoes takes stage at Ford Amphitheater as dance version of Hot Summer Nights" using the form below