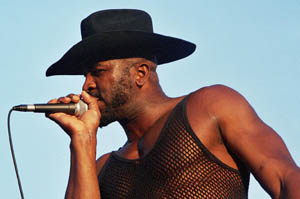 Eek-A-Mouse closes out the free Bud Light Hot Summer Nights concert series Tuesday in Vail.
Courtesy of
vvf.org
Eek-A-Mouse caps off Hot Summer Nights free concert series in Vail
By realvail.com
August 17, 2009 — He stands 6 feet 6 inches tall and his stage name comes from a racehorse upon which he frequently bet and lost money. He is also one of Jamaica's premier reggae stars and one of the early artists to be described as a "singjay."

And, Ripton Joseph Hylton, better known as Eek-A-Mouse, will help bring down the curtain on summer in the Vail Valley with the season ending free show of Bud Light Hot Summer Nights August 18 at the Gerald R. Ford Amphitheater.

Eek-A-Mouse began his foray into reggae music as a college student, releasing two roots reggae singles under his own name. The singles were produced by his mathematics tutor, Mr. Dehaney, and showed a heavy influence from Pablo Moses. He officially became Eek-A-Mouse in 1979.
"I was singing when I was a child," said Eek-A-Mouse, remembering his hand-to-mouth beginning's in Kingston's notorious Trench Town ghetto. "Then the kids got interested and sometimes I would sing them songs. Sometimes, there would be little concerts going on in school and I would participate. But I knew I was gonna be a singer soon."

His diverse list of early musical influences reads like a Who's Who of the varied styles that would eventually color his inventive lyricism and instrumentation.

"I loved Nat King Cole, Marty Robbins, Cab Calloway, Patsy Cline," said Mouse, "all different singers. Sam Cooke and the Beatles…and stuff like that. And then I came up with my own original style."

That style included elements of "sing-jaying," an early form of toasting mixed with funky vocal gymnastics and effects. His contribution to the genre was a percussive, nasally vocal style and a talent for using his voice as a musical instrument.

By the end of 1980, he linked up with producer Henry "Juno" Lawes, the duo experiencing big hits in 1981 with the likes of "Virgin Girl" and a re-cut "Wa-Do-Dem". That same year, Eek-A-Mouse was the star of the Reggae Sunsplash Festival, cheering audiences still mourning the death of reggae icon Bob Marley.

The second half of the 80's saw Eek-A-Mouse targeting the U.S. with his first American release, "Assassinator" in 1985. He also traveled to the UK to record "The King and I", an effort that played to the rock crossover audience he had begun to appeal to.

His prominence continued into the 90's courtesy of 1991's "U-Neek" album, which continued his rock-oriented style, including a cover of Led Zeppelin's D'Yer Maker, and from which the hit single You're The One I Need was taken.

More than a quarter century of recording, global touring and enough years in residency in the suburbs of Irvine to justify an accent heavy on California-isms have hardly changed the dancehall godfather's husky Kingston patois.

While a couple of decades removed from the Jamaican dancehall scene that solidified his reputation as one of the genre's most irreverent and oft-copied toasters, The Mouse, as he is fond of calling himself, hardly feels his career has peaked.

Oh, and by the way, when the racehorse he drew his name from finally won, Eek-A-Mouse of course, had refused to back it.

The final 2009 Bud Light Hot Summer Nights free concert gets under way at 6:30 p.m. and the gates of the Gerald R. Ford Amphitheater open at 5:30 p.m. The last Bud Light Hot Summer Nights free concert, featuring Eek-A-Mouse, is presented by Pazzo's Pizza, with this week's Bud Light Post Party also hosted at Pazzo's.

The 2009 Bud Light Hot Summer Nights series is a project of the Vail Valley Foundation. For additional information on Bud Light Hot Summer Nights, visit www.hotsummernightsconcerts.com. For more information on the Foundation, visit www.vvf.org.


Comment on "Eek-A-Mouse caps off Hot Summer Nights free concert series in Vail" using the form below