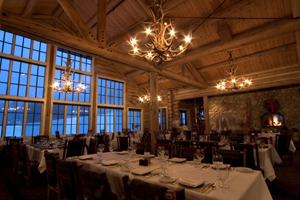 Beano's Cabin
By realvail.com
February 16, 2007 —
Name: Beano's Cabin

Style: Colorado cuisine, American

Location: Beaver Creek Mountain, among the ski slopes

Phone: (970) 949-9090.

Connoisseurs in search of Colorado cuisine may find the definitive example at Beano's cabin. The impressive venue is set against views of Grouse Mountain and the Gore Range, and nightly hosts one of the country's most memorable dining experiences. Getting to Beano's can be half the fun. During the summer months, warm weather offers a scenic hour-long horseback ride or wagon ride ands shuttle vans are also available. A snow cat or sleigh ride whisks diners to the cabin in winter. Once seated, Executive Chef Steve Topple treats visitors to a 5-course meal which has earned the AAA Four Diamond Award, the DiRoNa Award, and the Wine Spectator Award of Excellence - all within the last 5 years.

Comment on "Beano's Cabin" using the form below