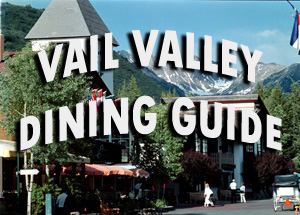 The Dusty Boot Saloon
By realvail.com
February 16, 2007 —

Name: The Dusty Boot Saloon

Style: American, Mexican

Location: Beaver Creek, 210 Offerson Road, in St. James Place just east of the skating rink

Phone: (970) 748-1146

A diverse menu and comfortable atmosphere has made the Dusty Boot a local favorite. Some restaurants over-reach themselves by attempting a diverse menu, but Boot serves steaks, burgers, seafood and Mexican food with equal gusto. Its prime location at St. James place, near the ice rink in the center of Beaver Creek, keep the Boot lively for après ski and dinner, yet it never becomes overly crowded. Sit at the bar and watch sports on one of several TVs, or have a family dinner at one of the clean, white-pine tables well-spaced throughout.

Comment on "The Dusty Boot Saloon" using the form below