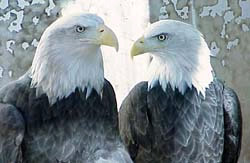 Raptor Education Foundation soars into Vail's Lionshead area every Friday in July
By realvail.com
July 11, 2009 — Vail's guests and residents have an opportunity to be introduced to some of the planet's most magnificent birds during the new free Raptor Rendezvous program taking place in LionsHead from 5 to 7 p.m. each Friday in July, as well as on Aug. 14 and 21.

The new program features the Denver-based Raptor Education Foundation (REF), which will use raptors such as Eagles, Hawks, Falcons and Owls to connect spectators to the natural world during a free, two hour educational program.

The Rendezvous will take place on the grassy lawn in the LionsHead Mall located at the top of the stairs of Vail Square and adjacent to Vail Bike Tech. Subjects and birds will change weekly and spectators are asked to leave their dogs at home.

According to Peter Reshetniak with REF, this family-fun evening of learning and exploration will captivate all ages.

"The raptors in the Foundation's care are permanently impaired, unable to survive any longer in the wild and have found a new role as educators," said Reshetniak. "This free program will inspire as visitors and guests watch how these amazing creatures act as nature's ambassadors by connecting us back to nature."

The new program is being brought to Vail via a partnership between the Lionshead Merchants Association and Vail Nature Center/Vail Recreation District (VRD) as part of LionsHead's Family Friday Afternoon Club (FFAC).

Sarah Franke with the merchants association says people will find the Raptor Rendezvous a fascinating addition to its weekly offerings.

"We're thrilled to include the Foundation and Vail Nature Center in our weekly afternoon club," said Franke. "The addition of the Rendezvous truly rounds out the activity-filled family event - completing the perfect toolkit for a Friday full of fun for everyone."

Golden EagleSince 1980, REF has been promoting environmental literacy by providing schools, corporations, conventions and gatherings with unique innovative programs and seminars that connect people with the natural world via the raptors. REF utilizes an extensive cast of live, non-releasable raptors to focus attention on environmental concepts and issues.

Considered one of Vail's best kept secrets, the Nature Center also offers unique, world-class programs including plant and animal exhibits, wildflower and morning bird walks, evening beaver pond tours, a summer speaker series, full day and half day hikes, fly fishing and stream ecology classes, art and photography in nature classes and campfire story telling with star gazing.

The Nature Center is open daily from 9 a.m. to 5 p.m. through Labor Day Weekend and is located adjacent to Ford Park and the Betty Ford Alpine Gardens and across the street from the soccer fields.

For details about REF, click here or call 303-680-8500. For more information about the FFAC in LionsHead, click here or call (970) 476-4941. For details about the Vail Nature Center, call 970-479-2291 or click here.




1 Comment on "Raptor Education Foundation soars into Vail's Lionshead area every Friday in July"