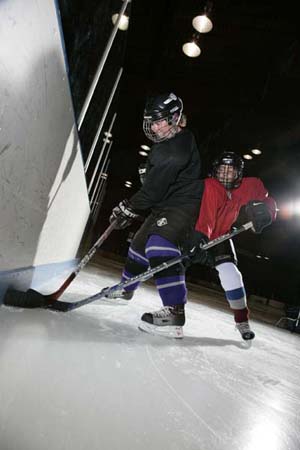 Registration under way for slew of Vail Rec District skating programs at Dobson
By realvail.com
August 18, 2009 — Registration for the Vail Recreation District's Learn to Skate, Freestyle Jumps and Spins, Mini Mite and Mite Hockey at Dobson Ice Arena is under way, offering skaters ages 4 to 14 an opportunity to learn the sport or enhance their skating skills.

Learn to Skate: Session 1 Sept. 16 to Oct. 14 and Session 2 Oct. 21 to Nov. 18

The first session of the Learn to Skate program will begin Sept. 16 and is perfect for children ages four and older who are interested in learning the basics of either figure or ice hockey skating. Classes take place from 3:30 to 4:15 p.m. and 4:15 to 5 p.m. on Wednesdays and cost $75 for the session.

Jr. Prep, Jumps and Spins: Session 1 Sept. 14 to Oct. 12 and Session 2 Oct. 19 to Nov. 16

An extension of the basic skills class that will teach advanced tricks and skills to help take participant's skating to the next level. Skaters ages six and older must pass the basic level 6 to participate. This class offers participants 30 minutes of instruction followed by 60 minutes of freestyle skating. Classes take place from 4:15 to 5:45 p.m. on Mondays and cost $100 for the session.

VRD Mini Mite and Mite Hockey: Season 1 Begins Oct. 13 and Season 2 Begins Jan. 5

Children ages five to eight will learn the fundamentals of ice hockey through fun and educational instruction and competition. Both groups practice from 6 to 7 p.m. on Tuesdays. Mini Mite sessions take place from 4 to 4:45 p.m. Sundays followed by Mite sessions from 4:45 to 5:30 p.m.

Two weekends out of the season will include scheduled games at the Eagle Ice Rink. Equipment rentals are available on a first-come, first-served basis. Costs are $150 for one season or $250 for both seasons. Preregister for both sessions and also receive an additional $75 discount, compliments of the Vail Eagle Hockey Association.

In addition to classes, Dobson Ice Arena also offers adult ice hockey leagues, adult broomball league, public skating, stick and puck sessions and events. For more information, click here or call (970) 479-2271.



Comment on "Registration under way for slew of Vail Rec District skating programs at Dobson" using the form below