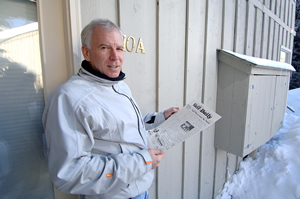 Vail Daily founder Jim Pavelich was waiting tables in a Vail restaurant when he came up with the idea for a free daily newspaper.
By Dan Davis
trekkerphoto.com
From stretch pants to riches
Behind every successful Vail business person is a tale of slope-style survival
By David O. Williams
December 11, 2007 — One of the prerequisites of being a "local" in the Vail Valley – far more important than tenure (after all, newbies who moved here this millennium affix "longtime" to their local tag) – is a good story about how you got here.


For instance, I was celebrating my birthday with some friends on the Beach at Arapahoe Basin ski area in the spring of 1991, a pony keg and hibachi in full flow, when Jim Pavelich, founder and then-owner of the Vail Daily and Summit Daily News, skied up with an unruly mob of his employees and asked to buy some cups for liquid refreshments between slushy runs at the Legend.


I mentioned I was a recent journalism school graduate looking for work, he asked if I was a very good skier, and 16 years later I'm still living, writing and skiing in Vail.


Ask a diverse cross-section of our ski-town society how they came to be in this place, and what made them stay, and you'll frequently find their lives turned just as dramatically and fortuitously on an equally chance meeting or bizarre series of events.


That's the nature of skiing and life in the mountains. A sense of adventure often leads to a permanent lifestyle that makes perfect sense to those of us lucky (and stubborn) enough to live it.


Bob and Diane Lazier


The Laziers met in Minneapolis and were married in 1961 following a couple years of classic ski bumming by Bob at Alta, Utah, and Mammoth Mountain, Calif.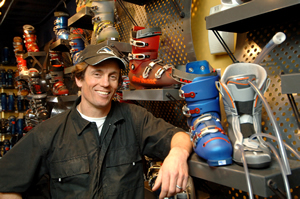 Russ Shay of Surefoot started the company's second store in Vail in 1988, and since then he and his brother Bob have opened 19 other stores around the world.
By Dan Davis

"Once Diane and I got married we pretty much determined that if we were going to be compatible and make it for 40 or 50 years or whatever, it may be that she needed to learn to ski," says Bob, who was working at a Minneapolis ski shop when in walked Vail's pioneering marketing guru, Bob Parker, wearing lederhosen and carrying an artist's rendering of the soon-to-open ski area of Vail. "We took the brochure and put it up on the wall over our bed and said that's where we're going to have our honeymoon and we're going to go ski bumming in Vail."


Vail opened in December of 1962 and the Laziers arrived in January of 1963 on a bitter-cold evening that reminded them of Minnesota. They stopped at the Conoco station for a pit stop and were getting their bearings when a girl walked up saying she had just quit the Vail Village Inn and would never work for manager Charlie Gersbach again.


Bob nudged Diane and told her to go see Gersbach first thing in the morning. She did, and thus began a string of different hotel jobs at the VVI for both Laziers and a longstanding friendship with the late Gersbach.


Diane worked in the coffee shop and later the dining room. Bob cleaned rooms, washed dishes, then broke his leg and was moved to the front desk. The following summer he was a bar boy and finally a full-fledged bartender, where he would grill builders on the tricks of the trade.


Acutely aware of a lack of employee housing (they were staying in Minturn with the rest of the workers at the time), the Lazier's first building project was an eight-unit apartment on a piece of ground on the eastern edge of Vail Village – purchased at the time for $7,000 (most of which they borrowed from Bob's parents).


"We went in one summer from $35 in out pocket to building our first building in Vail," remembers Diane, noting they were one of the few young married couples in town at that time. They continued to work their service-sector jobs the next few years while Bob built during the day, tended bar at night and picked up the pace of construction in the summer.


Over the next decade they built a building a year (give or take a couple of years), including the Arcade Building in Vail Village and the Wedel Inn where the Sonnenalp now stands.


Finally they had a chance to buy the land where they built their dream hotel – the Tivoli - in the late 1960s. Now the teardown and redo of that property is part of Vail's billion-dollar New Dawn redevelopment. The spectacular new property, including the Lazier's penthouse apartment, debuted two years ago and is slated to be open to guests for at least the next 40 or 50 years.


Sue Rychel


The undisputed queen of Vail Valley real estate overheard a conversation in a restaurant in Kansas City, where she was working for Hallmark Cards in the late '60s, that landed her in the fledgling ski area. It was Isabelle Schober's brother, describing how his sister had married an Austrian ski instructor and started a ski shop in a little mountain town called Vail.


Rychel had gone to school in France and fallen in love with the ski towns of the Alps, so she decided to check this Vail place out for herself, packing her young son Kent into her car and leaving her daughter, Leigh, with the grandparents. Once in town, Rychel met Schober and was invited to a party the next night where she met future mayor Rod Slifer and the legendary Garton brothers, Dave, Tim and Rob.


"What an introduction," Rychel says. "After three days in the then tiny town, I drove home, quit my job, started packing, and in 10 days drove back to Vail with two small children. My mom cried, and my dad thought it was exciting. We arrived in August of 1968. I had no job, no place to live, a few dollars and a lot of determination."


Kent in tow and Leigh on her hip, Rychel went door to door in Vail's nicest neighborhood, along Beaver Dam Road, until she found a one bedroom, ski-in/ski-out apartment she rented for $125 a month.


She worked 90 hours a week in those early days, in a bar called The Slope a couple nights a week, cutting men's hair with no previous experience, babysitting, ordering Rosignol and Fusalp ski goods for Bud Parks' ski shop because she spoke French, and cleaning the bank, chapel and various business offices – including one she would later own.


After three years, in need of another home, the Rychels settled briefly in a ski shop that no longer exists. "We slept under the ski racks. When the night watchman shined his light in the windows, we froze … in more ways than one as we slept on the floor. We bathed in the sink and brushed our teeth there. What an adventure."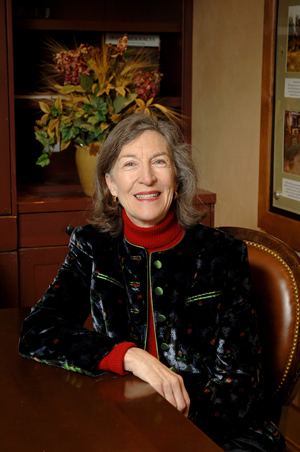 Sue Rychel moved to Vail in 1968, and went from sleeping on the floors of commercial buildings to owning them outright.

Rychel served as secretary for Ski Club Vail, where Kent was sponsored as a racer by Vail founder Pete Seibert, and later she would work at Gorsuch ski shop. But in the '70s, deciding she needed to toil a little less and make a little more, Rychel worked for a while grading gemstones for local jewelers before finally being approached by Harlan Choate, who ran a small real estate office out of the Vail Village Inn.


Choate put her through school, gave her a desk while she commuted to Denver to earn her real estate license, and got her started in a business she made her own. With Kent and Leigh helping her after school to mail out thousands of letters, Rychel built a booming business and now is the branch broker for Slifer Smith and Frampton's Sitzmark office.


"Would I do it all over again? You bet," Rychel says without hesitation.


Jim Pavelich


When Pavelich, the undisputed king of Vail Valley media, graduated from the University of Colorado with an accounting degree in May of 1975, his career path was clear: "I moved up here the next day because I was a skier and that's what I wanted to do."


He worked at the Holiday Inn his first two years in town, first as a bus boy, then a waiter, then a front desk clerk. Then once again in the long-running tradition of countless other overeducated ski-town service workers, he put his degree to work as a waiter at a series of restaurants, from the Lodge to Sweet Basil to the Left Bank, where he was still serving eager eaters when he and Jon Van Housen came up with the idea for a free daily newspaper to take on the entrenched weekly Vail Trail.


It essentially launched as a one-page flier on June 15, 1981, and sold 12 years later for millions.


"I knew from the first day in Vail that we had a great idea, and I was surprised it took so long to catch on. We thought everybody would copy us, and now they finally are. There are free dailies all over the country," says Pavelich, who still owns the Denver Daily News. A couple of years ago he sold a group of free dailies he started in California to media giant Knight Ridder and for a while headed up its community newspapers division, which was established specifically to start free dailies around the nation.


But Pavelich, his wife, Leslie, and their four children still call the Vail Valley home, living a little down-valley in Arrowhead where the one-time participant on the pro mogul tour can still see ski slopes. When he first moved to town he was even closer to the action.


"I found an ad in the Vail Trail for a condo in Vail Village in the Lazier building above Wild Bill's hat shop," Pavelich remembers. "Within three weeks we were living in the heart of Vail Village for $125 a month each."


Those deals may not abound anymore, but in many ways Vail is still the same place, Pavelich says. "Everyone says how the town has changed so much, but it really hasn't changed that much. Everything is just bigger and there's more of everything."


And the locals are all a bit older: "You used to be cool if you'd been in town two or three years. Now I meet people here who were born 10 years after I moved to town."


Debbie Marquez


The co-owner of Fiesta's Mexican restaurant in Edwards admits she and her cousin, Cookie Archuleta, whom Marquez joined in Vail in the fall of 1977, "were some of the few Colorado natives who never learned to ski when we were kids."


But her family had fished and hunted in the Vail Valley for years when she was a kid growing up in Denver. Then when she was eight she moved to the San Fernando Valley of California, where she lived through high school.


"I really tell people I grew up in Vail, but those formative years were spent on the radical left coast of California, and I'm so grateful for that," Marquez says. "I saw what radical social change can accomplish."


That spirit of activism burns in Marquez to this day. The former chairwoman of the Eagle County Democratic Party was elected a Democratic National Committee woman in 2004, and the wildly popular Edwards eatery she owns with her sister, Susan, remains a force for socializing if not social change.


One Christmas not too long after Fiesta's opened in 1989, the restaurant was packed with wealthy visitors in fur coats, Latino families speaking Spanish, ranchers in cowboys hats and local families with kids. The Marquez sisters were scrambling during the dinner rush but paused to take it all in.


"We just looked at each other and smiled, and I said to Sue, 'Wow, we made it and this is what we wanted to accomplish,' because it was such a diverse clientele," Marquez says. "This is perfect to be able to cater to everyone; for me that was the pinnacle."


The entrepreneurial Marquez enjoyed earlier incarnations as a rafting company owner and reservations manager at the Holiday Inn, which lured her away from a similar position she held at an airport hotel in Denver after moving back from California following high school. She still remembers her first day in Vail.


"I walked into the Holiday Inn in late October. We had already had some snow on Vail Pass, which was not an interstate, it was still Highway 6, and I walked in after driving my old Volkswagen Bug up and it was just deserted. The place was so empty for someone coming from a busy airport hotel."


But the front desk said they were expecting her. The maintenance man at the time, Mike Reid, had just filled his elk tag, and being from Maine he had imported some lobster for the ultimate surf and turf.


"My introduction to Vail was eating elk, homemade peach ice cream and fresh Maine lobster," Marquez says. "That was just perfect for me because I came from a family that used to hunt in this area. It was just one of those, 'I-think-I'm-really-going-to-like-it-here' moments."


Russ Shay


Russ Shay already was a ski bum when he came to town in February of 1988, but it took moving to Vail to perfect the art.


Right out of high school in Stratton, Vt., Shay partnered with his brother, Bob, to start a ski-boot store called Surefit (now Surefoot) in Park City, Utah, in 1982. Five years later his brother came down the hall of the store, knocked on Shay's door and said, "Pack your bags, you're moving to Vail."


Bob Shay had purchased out of foreclosure a lease for the space formerly occupied by a jewelry store above American Ski Exchange in Vail Village, and Russ was tabbed to open the fledgling chain's second store.


A former national level ski racer who remains intensely passionate about the sport to this day (he can be encountered in Alaskan airports after heli-skiing the Chugach in the spring or in South American ski resorts when it's summertime in Vail), Shay was psyched to hit town in the late '80s.


"I loved Vail because tons of guys I grew up ski racing were all here; none of them were in Park City," Shay says. "I still love it here. It's grown a lot, but we live in a capitalistic society and to think things are going to stay the same is crazy. But the core of Vail Village itself hasn't changed that much at all. I walk up Bridge Street now and it still reminds me of how I walked up Bridge Street 19 years ago."


Shay and his crew stayed in the store their first few nights in town, until town officials politely suggested more permanent residences might be in order. Problem was, it was peak season in Vail and all the rooms were full, so they headed 30 miles west to Eagle.


"I remembered thinking, 'Who the hell would ever drive down here?' And now pretty much everyone who works in Vail drives down to Eagle (where the locals live)."


But in capitalistic society, change can be a good thing.


Surefoot started because Bob had always had problems finding boots that fit his feet. The ski and boot manufacturing establishment scoffed at the concept of a store specializing in boots only.


"Absolutely no one was doing it at all," Shay says of the early days of the orthotics movement that revolutionized the industry by custom fitting boots for optimal comfort and performance. "Ski boot manufacturers laughed us. They said, 'You're never going to make in money in boots.'"


The Shay brothers are having the last laugh. Opening their 21st store in Courchevel, France, a couple of years ago, the 2001 Ski Magazine National Shop of the Year winners have branched out into golf shoes and other athletic footwear – proving once again there's no limit to what ski bums can accomplish between runs.


"Did I ever think I'd have this awesome of a lifestyle, be able to stay in a ski resort and live the way I do?" Shay ponders. "No, never."


Amen.


This story originally appeared in the 2005 holiday issue of Vail Beaver Creek Magazine. Go to www.vailbeavercreekmag.com.


Comment on "From stretch pants to riches" using the form below