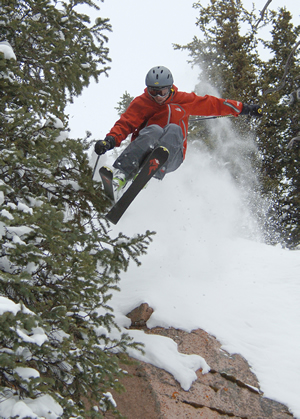 Scot Schmidt, a ski-film pioneer of the 1980s and early 1990s, hucks a rock in the backcountry of Monarch ski area in southern Colorado.
By Dan Davis
www.trekkerphoto.com
Scot Schmidt: still limiting his exposure after all these years
Low-key ski-film pioneer talks about Doug Coombs, first descents and living to ski another day
By David O. Williams
February 22, 2008 — Extreme-skiing pioneer Scot Schmidt built his whole career on the exposure of ski-film classics such as "The Blizzard of Aahhh's" and "License to Thrill," but he always tried to avoid exposure when it came to the impossibly steep lines he skied.

The current push to bag first descents on big mountains never appealed to Schmidt.

"I never really considered myself a true extreme skier - the whole ski mountaineering and first descents thing," Schmidt said. "I was always more into explosive, dynamic and fast skiing and documenting it on film."

First descents on 55-degree pitches with marginal escape routes require a far more calculated approach, he says.

"Some of these first descents are pretty impressive but because they're moving so slow and carefully – because if you fall you die – it's actually a little boring," Schmidt said. "I was always more into lines that are challenging but not necessarily so exposed. I've had my ass kicked several times and I've learned a lot of respect for the mountains."

Skiing exposed lines finally caught up with Schmidt contemporary Doug Coombs a couple of years ago when he slipped and fatally plummeted off a cliff face near La Grave, France, while trying to help Silverthorne resident Chad VanderHam, 32, who had crashed in a "no-fall zone" and fatally skidded off the same cliff.

"I loved the guy; he was really fun to be on the mountain with," Schmidt said of Coombs, a two-time World Extreme Skiing champion who teamed with Schmidt for the stunt skiing in the movie "Aspen Extreme." "Some of the best times I ever had were skiing with him in Alaska and Canada."

Coombs started then sold the first commercial helicopter skiing operation in Valdez, Alaska, and later launched an international big-mountain guide service based in Jackson, Wyo., and France, where he admired the sport's most daring pioneers.

Schmidt has been working on a documentary project with director Greg Stump - widely credited with revolutionizing the ski-film industry in the late '80s – that explores the history and psychology of the extreme, or big-mountain, ski movement.

"They were going over to Europe to interview the surviving extreme skiers, but not a lot of them are left," Schmidt said. "A lot of them have bought the farm already."

Like Coombs, Schmidt had a solid ski-racing background before he started soaring off rocks on camera. His hallmark, fine-tuned at his home mountain of Squaw Valley, Calif., and in dozens of ski films since, is effortless skiing and highly controlled big air.

Schmidt made his mark in movies more than competition, also starring in a slew of Warren Miller films, but seems genuinely surprised by the impact he's had on the sport, which over the past 20 years has veered sharply in the direction of exploring increasingly challenging terrain.

"It was never my intention to have such an influence," said Schmidt, whose film work is more limited these days in favor of guiding corporate ski functions. "I was just on a selfish pursuit to ski and get free product and skiing, and the byproduct was kind of an evolution in the industry."

Sponsored by North Face and Stokli skis, which produces a Scot Schmidt model, Schmidt regularly skis for a fee with executives of companies such as Citigroup, guiding them around ski areas from Vail to the Yellowstone Club near Big Sky, Mont.

"The day rates are pretty good and you actually get to ski instead of standing around waiting for cameras to be set up," he said. "Now I get 10 or 12 runs a day instead of one or two."

Now in his mid-40s, his new incarnation allows Schmidt to spend more time with his wife and three children, as well as pursue his other passions such as surfing and riding motorcycles.

Extremely mellow and lacking the out-sized ego of other ski stars, Schmidt says he's the polar opposite of Glen Plake, the mohawked madman who costarred in the early Stump films.

"Glen Plake travels 350 days a year promoting himself and the sport - he's pretty relentless," Schmidt said. "I'm always surprised by how much energy he has. For me it's quality over quantity. I like skiing so I don't want to burn out and overdo it."

For Schmidt, limiting exposure works on many different levels.


2 Comments on "Scot Schmidt: still limiting his exposure after all these years"