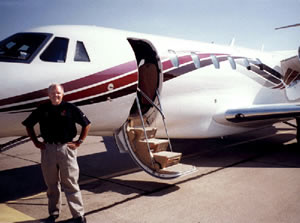 Aviation adventurer Steve Fossett, a Beaver Creek resident, disappeared while flying in the Nevada desert in September. He was remembered by friends and family Thursday at the Vilar Performing Arts Center.
Courtesy of www.stevefossett.com
Aviation pioneer Fossett remembered at Beaver Creek service
Millionaire who disappeared in Nevada desert lauded for lofty pursuits, grounded personality
By David O. Williams
March 21, 2008 — Renowned aviator Steve Fossett was remembered by friends and family Thursday as man driven by the loftiest of ambitions but grounded by the most down-to-earth of characters.

In his opening remarks to a gathering of nearly 200 well-wishers at the Vilar Center for the Arts, friend and fellow Beaver Creek homeowner Jim Donohue noted the upscale resort community west of Vail has lost its two most famous residents in the last year and half: former president Gerald R. Ford and Fossett, 63, whose plane disappeared in the Nevada desert Sept. 3.

Ford was famous and people were surprised by how down-to-earth he was, Donohue said. "In contrast, with Steve we immediately recognized his similarity to Ford's everyman persona and then were surprised by his fame."

Fossett's fame stemmed from his single-minded pursuit of records, including 116 marks set in five different fields, including circumnavigating the globe sailing, ballooning and in a fixed-wing aircraft. A member of the National Aviation Hall of Fame, Fossett's most notable achievement was becoming the first man to fly solo and nonstop around the world in a balloon in 2002.

Fossett's internationally acclaimed balloon mark took six tries in seven years, one bid resulting in a crash landing in the Coral Sea. He was also the first man to fly a balloon solo across the Pacific Ocean.

"Way back when Steve first began his training with me, little did I realize it was I who would become the student," said Ed "Merlin" Sagon, a local commercial balloonist who certified Fossett in hot air balloons in 1993.

Sagon said Fossett taught him "there are no limits to what we can accomplish, only those that we place on ourselves. Our world needs people like Steve, and there's a great void in his absence."

Fossett's disappearance last fall while flying a single-engine plane to scout locations to try to set a land-speed record in a car touched off a massive search that went global with thousands of people scanning satellite maps on home computers. But no trace of the man or his plane has been found.

Fossett, who made millions in the financial services industry in Chicago, became the first man to fly solo, nonstop in a fixed-wing aircraft around the world in 2005. But he continually explored other modes of travel, including competing in the Iditarod Sled Dog Race in Alaska, swimming across the English Channel and cross-country skiing from Vail to Aspen.

Bobby Hernreich, a local developer and sports team owner who attended graduate school with Fossett at Washington University in St. Louis, said Fossett inspired on so many levels.

"He gave much to many; he gave me my passion for snowboarding," Hernreich said. "I can't tell you how many years ago he called me up and told me, 'Bobby, let's try this new sport, snowboarding, and I've been snowboarding ever since."

Hernreich, whose former wife Becky worked in the Clinton White House, recalled a time when the Clintons were staying in Beaver Creek and dining with the Fords and Hernreichs. When Bobby Hernreich mentioned Fossett lived nearby, Bill Clinton asked to meet the famous flyer. Fossett and his wife, Peggy, came over an enthralled the ex-president, Hernreich said.

Peggy Fossett was in attendance Thursday but did not speak. She had her husband declared legally dead last month after months of unsuccessful searching for his remains.

Tim Cole, who certified Fossett in gas balloons and in 1994 flew across the Atlantic with him in a balloon, recalled Fossett saying at his induction into the aviation hall of fame that the adventures weren't over. "In my heart, Steve is on another adventure," Cole said.

Comment on "Aviation pioneer Fossett remembered at Beaver Creek service" using the form below