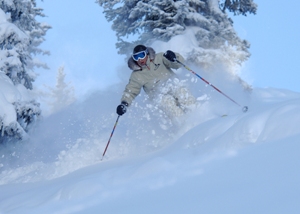 Chris Anthony, a familiar face to fans of Warren Miller movies, seems to always be the guy willing to ski marginal conditions for film segments. But here he gets the goods in Vail's Blue Sky Basin in 2005.
Dan Davis
trekkerphoto.com
Chris Anthony: Warren Miller's 'utility man'
Always willing to carry cameras, Vail icon relishes his roles in annual ski film
By David O. Williams
October 14, 2005 — Chris Anthony will literally do whatever it takes to get into a Warren Miller film.


In 1986, as a freshman at CU and a member of the U.S. Ski Team training group, Anthony sat in his car in front of Miller's home in Vail for what seemed like an eternity, trying to muster the courage to drop off a demo tape of his skiing prowess.


The now 38-year-old Edwards resident admits his unsolicited pitch did him no good with the iconic ski filmmaker, but two years later the struggling downhill racer went head to head with one of his idols, Mike Farney, in Vail's Hardcore Skier Challenge.


Anthony turned in a strong showing against Farney, a former U.S. racer who went on to head up the race crew for the 1989 World Championships in Vail, and Farney told Anthony he'd put in a good word with the people at Warren Miller Entertainment.


When Anthony got back to his Boulder apartment, there was a scrawled note on his message board telling him to call a name he didn't recognize, which turned out it to be a Warren Miller producer who rattled off instructions on getting to Val Thoren, France, for a film shoot.


All of Anthony's professors but one – his sports psychology instructor, who failed him – let Anthony out of his class schedule and cleared him to head out on his first Warren Miller shoot. His fading ski-racing career (he raced in only one World Cup, in Aspen) was officially over.


"Some of my friends I raced with at the time told me I should ski for films, because, they said, 'You ski pretty … slow, but pretty,'" Anthony said.


Nearly 20 years later, Anthony is a veteran of 16 Miller films, the last 15 consecutively, and admits he has become the Miller film's "utility man," willing to do virtually anything that no one else wants to do.


Farney, who had just returned from shooting a segment in Antarctica, told Anthony if he wanted to do more than one film he should be willing to carry the camera tripod. Anthony took that to heart and has shown a willingness to do much more to make the final cut.


The easy-going redhead alludes to his utility role at the beginning of his two segments in this year's film, "Higher Ground" – the 56th annual Warren Miller production: "For so many years I've spent summers scheming up ways to save a buck and get on my next Warren Miller shoot.


"Flying coach in Ecuador, an alternative transportation I had in Italy (on top of a train and on the back of a Vespa), saddle sores in Montana (on horseback with skis) and flying in that duct-taped deathtrap in the Middle East (a Russian helicopter in Iran). I have to admit it's been a journey."


For this year's film, Anthony was the lucky recipient of an assignment to deliver last year's film to the crew of the USS Nimitz aircraft carrier at the request of a lieutenant commander who's a huge Miller fan. Anthony's an oddly humorous fur-clad figure with skis aboard the massive vessel in the stifling heat of the South Pacific.


The premise of the film is that the warship then drops Anthony in Alaska where he competes in the 20th annual Arctic Man, two downhill ski races connected by an uphill snowmobile race with the skiers on a towrope. Anthony caught an edge in a practice run, crashed at 80 mph, and was sore for weeks.


The 1996 Alaskan Extreme Skiing champion says he wouldn't mind once in a while getting a more glamorous segment, but his rep for skiing any snow conditions, when the film crews are desperate for footage, has morphed him into the ultimate role player.


"Most of the athletes want to look cool, and to look cool you have to have good snow, so they bail if the snow's not great," Anthony said. "So I've never skied a segment with good snow. Each year I kind of cross my fingers that I'll get that epic day where I look like one of the big boys."


Catch him at one of his instructional camps in Silverton, Vail, Cordova, Alaska, or Valbruna, Italy (www.chrisanthony.com), or listen to him wow fifth-graders as a speaker for Colorado Ski Country USA and you'll realize he has all the skills of the classic big-mountain skier and is a great ambassador for the sport. That's just not his role in the Miller films.


"I'm the guy who carries the tripod," Anthony said with a chuckle.


1 Comment on "Chris Anthony: Warren Miller's 'utility man'"