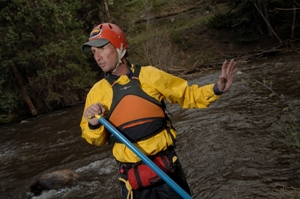 Billy Mattison has turned his love of river rafting into one long outdoor adventure that's now taking him to a remote corner of China.
Dan Davis
trekkerphoto.com
Billy Mattison: Vail's consummate raft guide
How a passion for paddling led to a life of adventure
By David O. Williams
June 8, 2005 — Editor's note: Since this article was written in June of 2005, Billy Mattison has largely retired from adventure racing and has taken the position of director of mountain operations for Ping Tian ski resort in Northwestern China.


At 47, Billy Mattison admits he's "a little old to be a raft guide and an adventure racer," but like many other middle-aged men whose first names end in a "Y," Mattison has excelled at defying Father Time.


In fact, he's made a profession of playing in the mountains – in ways that most rational people would view as shadow boxing with the grim reaper on a daily basis.

Fast facts about Billy Mattison

Days each summer on various Colorado rivers: 60


Months each winter skiing: 5


Days a year spent above 12,000 feet: 40


Years as an elite paddler: more than 30


Accomplishments in adventure racing:


Eco-Challenge Morocco – first place


Discovery Channel Appalachian Extreme – first place


Eco-Challenge New Zealand – fourth place


Eco-Challenge Fiji – seventh place


Discovery Channel World Championships – third place


Subaru Gorge Games – third place


Primal Quest – fifth place


For more information on Timberline Tours in Vail, go to www.timberlinetours.com. For more on Team GoLite/Timberland, go to www.golite.com.




As head boatman and part owner of Timberline Tours in Vail, Mattison spends about 60 days each summer guiding clients down class IV and V rapids, with class VI considered too dangerous to navigate.


Asked about some of his sketchiest whitewater experiences, though, his response is somewhat nonchalant:


"I've been banged up; I've taken bad swims and smacked my shins and knees on rocks; I've been pinned," he said of an incident a couple of summers ago in Tunnel Falls, a notorious drop in the Gore Canyon of the Colorado River. "When you get sucked out of the back of the boat and you're down at the bottom of the Colorado River with the whole thing pounding on your head that gets disconcerting."


But Mattison, a commercial guide since 1980 and a kayaker since '73, says he's never that worried about his own skin on the river, it's the safety of the clients that always comes first. And on a class V trip, he says 98 percent of the people who sign up are fit, gung-ho and generally know what they're getting into. Still, over the past quarter century, he's seen his share of mishaps.


"We have had people die of heart attacks on trips; I've had to do CPR on trips; I've flipped boats; I've seen people with foot entrapments (between rocks in a raging rapid); I've had to help people from other companies that have had big problems, so there is an element of risk for sure."


Those are rare occurrences, Mattison assures. Most people come away with the experience of a lifetime – or at least of their Colorado vacation. But it's the risk that provides the rush, and as a foreman and avalanche director for the Vail Ski Patrol since 1989 Mattison knows a thing or two about mitigating the risks – and dealing with the consequences – of adventurous activities.


He's also fairly versed in pushing the limits of acceptable risk. During a training session in Gore Canyon with Team Vail in 1998, he came up with the idea for "Gore Canyon Extreme" – Timberline's two-day program that culminates in a rappel down a 1,000-foot cliff (overhanging in places) followed by a class V raft run through the canyon.


Coincidentally, Mattison and Team Vail won that event in Morocco they were training for in '98, becoming the first American squad to win the Eco-Challenge – the granddaddy of multi-day, multi-sport adventure races.


Mattison says he's often asked by rafting clients or skiers he encounters on the mountain which aspect of his life – river guiding, ski patrolling, or adventure racing – he likes the most.


"At the end of the rafting season I'm really looking forward to skiing and at the end of the ski season I'm really looking forward to rafting. They're jobs that I really wouldn't want to do, either of them, year-round. And it's nice to have a month off in between each season to race or take the family and go camping or traveling around. So it's really perfect."


As a member of Team GoLite/Timberland, Mattison often got up at 4 a.m. so he could go for a two-hour run up the steep slopes of Vail Mountain or an equally grueling mountain bike ride before hitting the river for a day of paddling big whitewater. Mattison has since retired from adventure racing, although he still competes a bit here and there and remains very active in course design.


He and his wife, Helen, have toddler twins, Scout and Liam – young adventure racers in training.


"I carry them on my back quite a bit during training to get the extra weight," Mattison said. "I used to be able to carry both and now I can only carry one, but that's still an extra 30 pounds on my back, so that's pretty good."


Comment on "Billy Mattison: Vail's consummate raft guide" using the form below