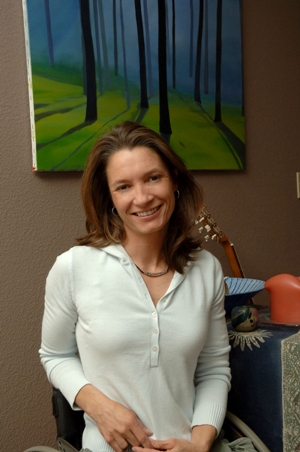 Sarah Will of Edwards has seen her life shift from the pressures of disabled ski racing to the demands of acting as an advocate for the disabled.
Dan Davis
trekkerphoto.com
Sarah Will: racing toward a bold new role
Disabled ski-racing great takes on accessibility issues
By David O. Williams
December 20, 2005 — Sarah Will is a study in the hackneyed expression, "Be careful what you wish for, it might come true."


Will's burning desire to become an elite ski racer had nearly been extinguished by the time she was 23 and free skiing at Aspen Highlands on Dec. 15, 1988.


That's the day she was crossing a trail at a good clip and got her skis caught in some powder, causing her to lean back. Because she grew up ski racing and was used to going hell-bent for speed, sitting down and riding it out never occurred to her.


Will tried to pull out of it, took off down the hill and did a back-flip off a cat track so far that her ski tips hit first and she landed on her shoulders.


"I consider myself very lucky that I didn't break my neck; it was that close, and that would have been a completely different story for me," said Will, who did break her back in the crash.


"I don't think I would have been as driven, and that's why, when I see people who are quadriplegic who live their lives to the fullest, they make me try so much harder to not only work for myself but to work for them."


Will's resulting paraplegia launched her on the greatest run ever for a disabled sit-skier: 11 years on the U.S. Disabled Ski Team and a record 13 medals (12 gold, 1 silver) in four Winter Paralympic Games from 1992 to 2002.


Will mono-skied her way to the racing glory she never achieved prior to her accident, but the petite, pretty 40-year-old cringes at the notion of her life as an inspirational metaphor.


"It depends on how you handle whatever happens to you and make the best of it," Will said, "and no, I have horrible days. Every day there's something that's going to frustrate you because of your disability, but if you let that get to you all the time you'll never continue."


Retiring shortly after the 2002 Paralympics in Salt Lake City, where she won gold in all four disciplines (downhill, super giant slalom, giant slalom and slalom), Will has struggled somewhat to find her identity in the ensuing years.


The Edwards resident always viewed herself as a ski racer, and never really as a role model or an advocate for the disabled. But the notoriety she gained in Albertville, France ('92), Lillehammer, Norway ('94), Nagano, Japan ('98), and Salt Lake has propelled her into both functions.


Her day job is as a ski instructor for Vail Resorts the past three seasons; she also instructs at the Adaptive Adventures Vail All Mountain Ski Camp in early February; and for 14 consecutive years she's hosted the Vail Monoski Camp in early January.


But more and more she finds herself fighting just as hard to increase awareness, acceptance and accessibility as she ever fought to hold the fastest, straightest line on an icy slalom course.


"I came straight from the hospital into the athletic world and … I never really saw the people who were advocates," Will said, adding that changed in 2000 when she was invited to be a torchbearer during a trans-American torch carry marking the 10th anniversary of the Americans with Disabilities Act.


"I met people who were advocates, and they kind of looked at me like, 'What are you doing? You're the one in the spotlight, what are you going to do for the cause?'"


So last July Will took to the streets during a massive streetscape project in Vail Village. She collected signatures on a petition and pressured the town of Vail into widening smooth paths through the newly installed but rough-riding cobblestone.


She also got town officials to flip the stones onto their smoother sides and successfully pushed for a wheelchair ramp near new construction in the town's Lionshead Mall area. Will says it will improve access not just for the disabled but for women in heels, elderly tourists and parents pushing strollers, which she argues is just good business.


In the spring she hopes to launch a non-profit called Access Vail Valley, which will detail the most accessible establishments and best public routes on a website aimed at disabled tourists.


"In her ski racing career there were only one or two people - man or woman - who were better than her. She set a high bar for herself," said former U.S. Disabled Ski Team coach Mike Brown, a Vail resident and member of the able-bodied ski team during the 1980s.


"She's proven her abilities and if she can take the same tenacity and everything she used in her skiing to be as successful as she was and focuses in on an endeavor in the real world, so to speak, she'll be very successful."


Will admits the prospect of missing her first Paralympic Games (March 10-19 in Turin, Italy) since 1992 has rekindled a bit of the old racing fire. She foreran an event in Breckenridge earlier this season aimed at introducing the sport to a new wave of disabled veterans from Iraq and Afghanistan.


"Some of these guys had never skied before and all of a sudden they've got the wind in their hair and they're taking some falls and getting back up and really enjoying themselves in the outdoors with their families to support them," Will said, aptly describing the essence of any form of skiing.


1 Comment on "Sarah Will: racing toward a bold new role"