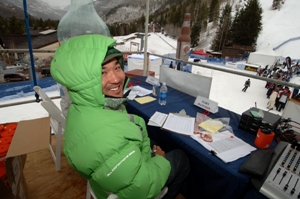 Toby Dawson, the only Vail-trained athlete to win an Olympic medal, has been enjoying the ride since his dramatic 2006 bronze medal mogul run in Italy.
Dan Davis
trekkerphoto.com
Vail revels in medal win for 'Awesome' Dawson'
By David O. Williams
August 3, 2006 — Add winning an Olympic medal to the list of things it takes a village to accomplish.


Vail has its Tyrolean-tinged village popular with tourists but also has a keen sense of community, which native son Toby Dawson credits with helping him to grab an Olympic bronze in mogul skiing in February, 2006 in Italy.


"Growing up in a small town and having the support of my community really helped me as an athlete," says Dawson, 28. "It helped me appreciate who I am and appreciate how lucky I was to grow up in a small town."


True, with only about 4,500 residents Vail is a tiny mountain town, but its collective heart is big. Dawson, orphaned as a toddler in South Korea, was adopted by two Vail ski instructors, Deb and Mike Dawson, when he was 3.


He began skiing a year later and went on to attend Ski Club Vail – an academic and athletic academy designed to produce competitive skiers and snowboarders.


So when "Awesome" Dawson, an eight-year veteran of the U.S. Ski Team, was standing in the starting gate for his final run in Sauze d'Oulx, Italy, he says he almost threw up he was so nervous he would disappoint everyone in Vail – many of whom had made the trip for the Olympics.


Instead, he swallowed the pressure and nailed the run of his life, including two 720 (two complete revolutions) aerial maneuvers – one of them inverted – to win the first Olympic medal for a Vail-produced athlete.


Other than a slew of Koreans stepping forward to claim they were his biological father, Dawson says there were few surprises following his medal win.


"The biggest surprise has been how many people out of the ski world now recognize me and actually watched me compete in the Olympics," he says. "The added attention has been fun. We've done some cool things like the Nickelodeon Awards and movie premieres. People have all been great."


Then came the biggest of surprises last spring when Dawson was informed by Korean officials that DNA testing had located his biological father and brother. He famously reunited with them at a press conference in South Korea, then hit the talk-show circuit, including an appearance on Oprah.


These days, bruised and battered from years of brutal bump skiing – in 2005 he was third in a World Cup event just 13 days after breaking his left foot – Dawson has retired from the ski team, married Vail resident Leah Halmi and is pursuing his new passion: golf.


An obsession since he first picked up clubs just a few years ago, Dawson has since trimmed his handicap to single digits with the help of Tom Apple, pro at the Jack Nicklaus-designed Country Club of the Rockies course just west of Vail.


Dawson has turned the same type of tenacity he showed in skiing toward golf, with a goal of making it on one of the pro tours within a few years. Dawson and Halmi will spend most of the year in Palm Desert, Calif., so he can play golf year-round.


Asked how his competitive life has changed with the switch from skiing to golf, Dawson says: "The biggest similarity is the focus and drive that I need, and the competition. The biggest difference is the places I go, and definitely the temperature."


Comment on "Vail revels in medal win for 'Awesome' Dawson'" using the form below