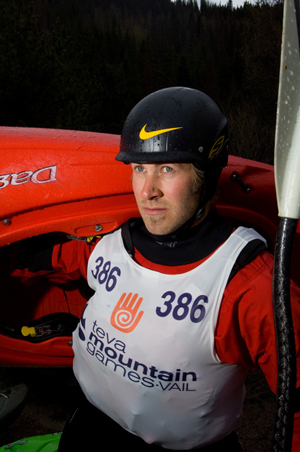 A poster boy with depth: Brad Ludden at the 2008 Teva Games.
Photo by Dan Davis
trekkerphoto.com
First Descents and so much more: the life of Brad Ludden
From his charity work to his worldwide adventures, this local pro kayaker is more than skin deep
By Tom Boyd
June 22, 2008 — In the summer of 2001, pro kayaker Brad Ludden was in the passenger seat of a Cessna 182 airplane, flying over the famed Chugach Mountains of Alaska. From beneath his well-trimmed blonde hair, Ludden peered out of a tiny window, scanning the mountains below for any sign of a runnable river or whitewater creek. Along with him were other pro kayakers and a film crew, all gathered together on a scouting trip of the area around Valdez. They were hoping to find the kayaking world's next Shangri-La, the next set of rapids and waterfalls that would find their way onto film and into kayaking lore.

At 20 years old, Ludden already was living in Vail and well established in the kayaking world. His quarterback looks and world-class skills made him kayaking's all-talented, all-lovable poster boy. Sponsors from Nike to Dagger to Subaru had jumped aboard the Ludden bandwagon during his teens, enamored as much by his zero-attitude mentality as his world-renowned talent. He was traveling the world and rubbing elbows with the rich and famous, a lifestyle that would eventually lead to a short romance with actress Jennifer Love Hewitt.

But Ludden was already feeling the pressures which come with life as an adventure athlete. Every other paddler on the 2001 Alaska trip was just as good as he was, just as psyched, and just as gutsy. Each man was prepared to kayak over the biggest drop, run the nastiest rapid, or power through the burliest water to help make his name and his career.

Beyond that, he knew age would eventually catch up with him. Like all pro athletes, he was destined to peak in his 20s and then, suddenly one morning, wake up and wonder what to do with the long remainder of his life.

"You see so many athletes hanging on too tight for too long," Ludden said. "I knew I had to have something to fall back on, something to give meaning to a life that had been mainly dominated by kayaking."

With foresight that is rare, if not uncanny, in young athletes, Ludden began to broaden himself.

It started with flying. Ludden partnered with friend and fellow kayaker, Ben Selznick, to buy a $64,000 Cessna 182, the very same plane had ridden in during the Alaska trip. Getting his pilot's license took another year, but on July 4 of 2003, Ludden had his license in his hand - and with it a whole new outlook on life's possibilities.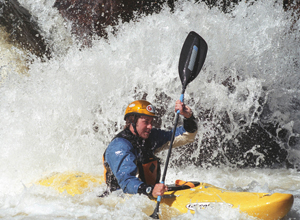 Vail's Ludden during the 2007 Homestake Steep Creekin' race. Ludden fares well in the Teva Games every year, and has paddled in remote locations around the world.
Photo By Dan Davis

Now 27, Ludden's life has him up in the air quite a bit – either flying is plane or being flown by someone else to remote locations around the world, where he makes kayak movies and gear commercials for his sponsors.

The work is good, but it's still work. Not only do his sponsors dominate his schedule and master his routine, but there is also huge pressure to paddle very, very dangerous stretches of river. Friends have died. Injuries have been sustained. The river can be daunting.

Only a few months ago, for example, Ludden was in southern Lao on the Mekong River, visiting an obscure, but wonderful paradise called Don Khong island. A gargantuan, 14 kilometer rift in the bedrock sends the Mekong River shooting up into the air, then tumbling hundreds of feet into Cambodia. It's big, it's burly, and it's about four hours away from the nearest hospital (picture Niagra falls without the honeymoons).

Ludden had been there seven years earlier to run a large, complex rapid near the island, but on that occasion he balked. Two other kayakers paddled the burly stretch of river, but Ludden walked away.

It has haunted him ever since.

"You're there with a film crew, four other paddlers, people have spent thousands and thousands of dollars to film you kayak this rapid, and you walk away from it," he said. "That can be pretty hard to do."

In 2008 Ludden returned to his old nemesis with another film crew – this time to conquer the mind-blowing set of rapids. (The dramatic footage is viewable as "Sweet Spot 15" at www.nike.com/nikeacg/.) Ludden plunges into the kind of rapid which appears nearly impossible to run, for a moment he disappears, and then he triumphantly comes away with elation on his face and his paddle in the air.

"It makes you feel alive, that challenge – I live for it," he said. "It's so daunting to know that death is a possible consequence, and to overcome it successfully and get to the bottom of a rapid is incredible – to have that sense, that overwhelming sense of all these emotions – it's really addicting."

Ludden describes feeling, "bogged down," and low on life when he stays away from kayaking too long. The gray, everyday world doesn't force him to be at his best, he said, and doesn't offer the kind of life-affirming moments given by the river, by kayaking.

From beginners to experts, kayakers of every level seem intoxicated with this same mental brew. There is a kind of unspoken knowledge among paddlers that they are all part of a common cult, a cult of health and strength which requires the mind and body to seek its apogee.

This cult is not reserved for experts only. In fact, experts will watch a beginner conquer a simple rapid and know, watch the smile bloom, and know that another paddler has joined the cult.

Soon enough, time otherwise spent watching TV will now be spent searching for the next rapid to run. Money will be diverted toward kayak racks, and sick days will be saved up for springtime, when the rivers run, and the whitewater awaits.

Colorado's water has a smattering of challenges for those at Ludden's level, but it has much more to offer the everyday paddler. Gore Creek has a new improvement – inflatable sidewalls – to its whitewater park which will allow for great surfing at almost any level. In Avon, work has been completed which has greatly raised the level of an existing park.

Kayak parks are springing up everywhere there is water (including places as disparate as Glenwood, Reno, and Dubai). So the idea of, "build it, and they will come," doesn't always work.

When the Town of Vail began looking into building a kayak park and attracting kayakers to the valley, they knew they would need an ambassador, someone well-spoken, someone well-travelled, someone who knew the important people in kayaking, someone who could let the world know that Vail's kayaking is world-class – just like its skiing.

Ludden was a no-brainer. When he was yet 19, Vail officials brought Ludden to Vail in hopes that he would become the "Kayaking Ambassador" and spread the word about Vail. Ludden was quite happy to be based in Vail, where the rivers are great and, he says, "Any athlete can come to this valley and push themselves as hard as they want to."

Vail had one question: how much money did he want?

But Ludden didn't want money, he wanted Vail to help him start a kayak camp for youths with cancer. He knew his sport could give that powerful sense of life, of living to the fullest, to those who lived in the constant shadow of death. He wanted to call the camp "First Descents."

"Brad was 18 years old (when he told us he wanted to start a camp for young adults with cancer)," Chuck Ludden, Brad's father, said. "And we thought, 'Well, that's a pipe dream,' but as I said, our philosophy was never to tell him he couldn't do something. Now, with the help of all the people in Vail, he's made it happen. It's really rewarding to watch."

First Descents has grown from a small-town camp to a five-state program with nine programs each summer. Climbing, mountaineering, and a special couples program bring this same feeling of vitality to 18-39-year-old cancer patients around the Rocky Mountain West. With three full-time employees and hundreds of volunteers, Brad's dream has grown beyond his wildest imagination.

"Teaching my (camp) participants, and watching them go through these challenges makes me extremely happy, but it goes even deeper than that," Ludden said. It goes back to the pro-athlete thing. Ludden knows his skills are likely to fade as he heads into his late thirties, if not his forties. After an athlete is forced to leave his sport there can be depression, withdrawal, like an addict suddenly deprived of the rush.

Learning to fly was one thing. But First Descents, he said, "Gives meaning to my life outside of being an athlete."

At 27 years old Ludden is an accomplished, international athlete, the founder of a wildly successful non-profit organization, and an aviator. He has become one of the best in the world at his sport, found a home that he loves in Vail, and given a reason to live to hundreds of First Descent participants. Beyond that, he has accomplished one of the most difficult things to do in life: he has found meaning in a sometimes-befuddling world.

One can only wonder what's next.

This story originally appeared in the 2008 Summer Edition of Vail Beaver Creek Magazine.


Comment on "First Descents and so much more: the life of Brad Ludden" using the form below