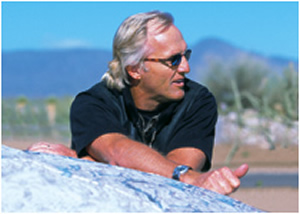 Great White Shark Greg Norman swims in former glory at British Open
Legend of the links talks about famous failures, new pursuits, Vail Valley, Colorado ties
By David O. Williams
July 18, 2008 — Editor's note: This story on golfing great Greg Norman first ran in Rocky Mountain Golf Magazine in 2006. Since then, Norman divorced longtime wife Laura and married tennis legend Chris Evert, whose former husband, ski racer Andy Mill, first introduced Evert and Norman. Norman, now 53, improbably was leading the British Open after three rounds at Royal Birkdale before winding up in third overall.

Australian great Greg Norman, golf's "Great White Shark," is no fish out of water in Colorado's high country.

Growing up in Queensland, Norman was a typical Australian youth, playing water sports, rugby and Australian rules football. He didn't pick up a golf club until the age of 15, but once he did the sport propelled him to international stardom and a home away from home in the Colorado Rockies.

The two-time British Open champion's infatuation with the Rocky Mountain West began when he first played in the PGA Tour's International golf tournament at Castle Pines Golf Club near Denver in 1986. Winning that tournament in 1989 – one of his 20 career PGA Tour wins – might not have hurt either.

"My wife Laura and I would drive into the mountains whenever we had the chance," Norman said. "I have had a piece of Colorado for nine years now, and added on to it recently with the acquisition of additional property with a river that is contiguous to my existing ranch."


Rocky Mountain High
Greg Norman's keys to golf at altitude
• Stay hydrated: "Drink lots of water! Being in good physical condition and keeping yourself hydrated are essential to high-altitude success."

• Factoring in altitude: "I love the challenge of having to factor the thinness of the air and the extra distance the ball will travel, for all golfers."

• Extra length: "At Cornerstone (a Norman design in Southwest Colorado), the course will stretch to 8,000 yards. Now that may seem extreme, but it's equivalent to a 7,000-yard course at sea level."

Norman's purchase of the Seven Lakes Lodge and adjacent Pollard Ranch near Meeker, Colo., from buyout king and Vail homeowner Henry Kraviz merely strengthened his already solid ties to the state. That cumulative 3,300-acre, $16-million acquisition added to 8,200 acres Norman bought in the Flat Tops region northwest of Vail nine years ago.

"Sports Illustrated called the Seven Lakes-White River National Forest area 'one of the coolest places around the world.' They were correct," Norman says. "I love what the mountains and Mother Nature give me when I'm on the ranch: from riding my horse with my family to mountain bike riding to fishing to hunting to working on the ranch to snowmobiling, or just nothing."

The property has seven stocked trout ponds, a 15,000-square-foot main house and an executive cabin designed by famed architect Gordon Pierce, who created many of the buildings in Vail that give the posh ski resort its alpine ambiance.

Intelligent design

The one thing Norman's ranch doesn't have is a golf course. If he wants to play a round nearby, he has to take a quick trip down the road to the critically acclaimed course he designed for Vail Resorts near Wolcott, Colo., about 20 miles west of Vail.

The private 7,500-yard, 18-hole, par-72 Norman Course at Red Sky Ranch Golf Club opened in June of 2003 and in 2004 was named by Golf Magazine the No. 1 Colorado course to play and No. 25 in the United States.

Norman is clearly proud of what the company he launched in Sydney in 1987, Greg Norman Golf Course Design, accomplished at Red Sky.

"I think I could play that course every day," Norman says. "It is positioned in one of the most beautiful areas in the region, but there were several obstacles we had to deal with. The biggest challenges were rocks, the grade of the slope, topsoil and, most importantly, water.

"But, given all that, the end result was spectacular. It's challenging yet playable and it's a natural golf experience with rock outcroppings, scrub oak, gulches and meadows. The course incorporates aspens, sage and water, and allows the natural landscape to dictate the flow of play."

Norman courses have quickly become known for tough layouts highlighted by inspired use of the surrounding topography. He hopes he's achieved the same results with his only other Rocky Mountain-region project currently on the books: the Cornerstone Club in southwestern Colorado.

The private golf course opened in 2006 with the completion of the first of 400 residences widely spaced over 6,000 acres, leaving approximately 3,000 of those acres as unspoiled open space. Cornerstone is in Ouray County between the ski resort town of Telluride, summer resort of Ouray and main commercial hub of Montrose.

"With views of the San Juan and Cimarron Mountains, a parcel of land like Cornerstone is very difficult to find," Norman says. "The course will measure more than 8,000 yards because it is being built at an altitude of more than 9,000 feet. And the setting is just magnificent."

Now based in Jupiter, Fla. (Norman also owns a home in Hobe Sound, Fla,), Norman's course design company and affiliated real estate development company, Medallist Golf Developments, has 47 courses open around the world with another 22 in various stages of development in the United States, Mexico, Canada, South Korea, China, Dubai, South Africa, Australia and Spain.

Norman also owns a golf course turf company, a Web design and e-commerce firm, a clothing line in partnership with Reebok, a line of vintage Australian wines, an event management company and a popular Sydney fine-dining establishment, Greg Norman's Australian Grille.

In fact, Norman's skills with a golf club may only be surpassed by his business acumen, though some critics have said his financial dealings have distracted him from the game of golf over the past decade.

Frustrations on the links

Norman's last regular PGA Tour victory came in 1997. Since then he's been plagued by injuries to his shoulder, back and wrist that have forced the 51-year-old to contemplate retirement several times over the last few years.

His shoulder problems in the late 1990s again brought him to Colorado, where he underwent a ground-breaking surgical procedure developed by Dr. Richard Hawkins of the world-famous Steadman-Hawkins Clinic in Vail.

"Dr. Hawkins used a heat probe to tighten a joint that is vital to the golf swing," Norman says. "This pushed me to have a deeper understanding of proprioception (the nervous system's sense of where the body's parts are positioned)."

Soon after surgery, Norman accepted a seat on the board of the Steadman-Hawkins Research Foundation, getting involved in fundraising and developing biomechanics programs specific to golf.

But despite the success of that procedure Norman has played in nearly debilitating pain for several years, culminating with back surgery in March of 2005 that was performed by Dr. Joseph Maroon, team neurosurgeon of the NFL's Pittsburgh Steelers.

"I had a simple choice," Norman says. "Either retire from the game of golf or seek any and all available means to help relieve the pain that has kept me from performing at a level that suits my standards."

Since then there have been signs Norman's game is returning to its formerly glorious form. He joined the Champion's Tour after turning 50 last year and finished third in the Senior British Open and fourth in the U.S. Senior Open.

Former glory

Within two years of picking up a golf club for the first time at age 15 (his interest was piqued by caddying for his mom), he was a scratch player. His successes as an amateur convinced him to give up his dream of becoming a pilot for the Australian RAF and pursue a career on the links.

Just six years after picking up the game for the first time and going on to earn $38 a week as a trainee at a golf shop, Norman turned pro in 1976 and joined the PGA Tour in 1983. The rest is history.

His crowning achievements came at the British Open, where in 1986 Norman shot a record-tying 63 on his way to a five-stroke win over Gordon Brand at Turnberry. Then in 1993 Norman repeated at the British, trailing by one stroke going into the final round at Royal St. George's, but shooting a 64 to beat Nick Faldo by two strokes.

One would think two major championships should be enough to cement a pro's legacy. After all, Phil Mickelson, golf's current golden boy, has just three major wins. And John Elway only won two Super Bowls despite playing in five.

But many people only seem to want to remember Norman for the dubious distinction of being the only player to have lost in a playoff in all four major championships. And no tournament has been more cruel to Norman than the Masters.

Augusta was the scene of his legendary collapse in 1996, when he famously squandered a six-stroke lead, and he led going into the final round in 1986, only to have Jack Nicklaus rally for the Golden Bear's last improbable major victory.

But Norman is philosophical about his record in majors, and seems genuinely at peace with the legacy he has left the game.

"I've only really learned in the last five or six years that there is so much more to a player's resume than how many majors he won," Norman says. "When you are actually in the arena, battling the bulls, you really don't see it. Quite honestly, winning a major is no more difficult than winning a regular tournament. If you have a putt on the last hole to get in a playoff, you still have to make that putt."

And Norman has won a slew of regular tournaments – a total of 86 throughout his career (18 PGA, 66 internationally).

"That being said, the best players in the world are stepping up to the plate for those four weeks (major tournaments) more so than any other event. But I think too much emphasis is put on the number of major championships won," Norman says. "Is that a benchmark of success? Absolutely. Is that a benchmark of a person's overall success? Absolutely not."

Five times Norman topped $1 million in annual earnings, and he was the first player ever to reach the $10 million mark in career earnings. He stands 31st on the all-time earnings list, and was ranked No. 1 in the world for an astounding 331 weeks.

Clearly, Norman is capable of putting the tough losses behind him, focusing on the many successes, and parlaying that success into a burgeoning business empire.

"There are things that happen through losses that actually make you a better person," Norman says. "I know I am a better person for losing at Augusta in 1996. Golf is part of life. It's not all of life. There are so many things I've learned on the golf course about myself that I've taken to life."




Comment on "Great White Shark Greg Norman swims in former glory at British Open" using the form below