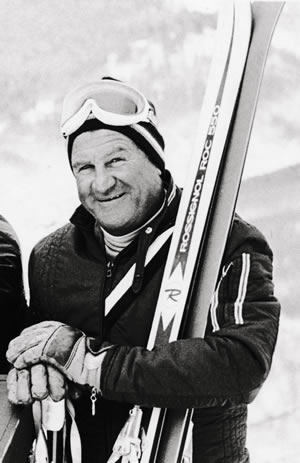 The late Bill 'Sarge' Brown, who died Sept. 14 at the age of 85. Brown was one of Vail's pioneers and a legend in the ski industry.
Courtesy of Vail Resorts
Vail ski luminaries, former VP Mondale remember the late Bill 'Sarge' Brown
Vail pioneer and World War II veteran helped make ski area world-renowned
By David O. Williams
September 25, 2008 — Vail Resorts recently issued a release stating that the ski company "family deeply mourns the loss of our dear friend, Bill 'Sarge' Brown, who passed away at his home Sunday, Sept. 14 at the age of 85."

Brown, according to the release, cultivated perfectionism among his employees, and his more than 25-year tenure as mountain manager at Vail is of legendary status. He led his team to develop advanced trails, world-class snowmaking and the drive to be the best in the industry.

"Sarge is recognized for setting the bar for mountain operations for Vail and Beaver Creek, a standard of perfection which the resorts still aspire to today," said John Garnsey, executive vice president of Vail Resorts Mountain Division and chief operating officer of Beaver Creek Resort. "We are deeply saddened by his loss and will honor his legacy."

Brown's ski industry career flourished with the same gusto as his military career. He joined fellow 10th Mountain Division soldiers Pete Seibert and Bob Parker at Vail where he drove innovations to manicure and perfect the ski slopes.

These accomplishments revolutionized the ski industry. His global ski racing experience also led to bringing international alpine racing to the slopes of Vail, culminating in hosting the 1989 World Alpine Championships. Sarge's Shelter at Mid Vail serves as a reminder of one of Vail's finest, and his many contributions to the mountain, his country and the ski industry.

"In thinking of Bill, the words organization, innovation, thoughtful, persistent and dependable come to mind," said Parker, longtime friend of Brown's. "Most notably and not a word many would associate with Sarge is 'thoughtfulness'- he was truly a kind, thoughtful man."

Before moving to Vail, Brown entered the Army in 1942 where he became the youngest first sergeant in the Army at the age of 19. Brown retired with the rank of command sergeant major. He was the fifth-ranking non-commissioned officer in the U.S. Army and was decorated with five purple hearts, two silver stars and three bronze stars for his service to his country.

Brown's personal friendships with the late President Gerald R. Ford and former Vice President Walter "Fritz" Mondale ensured their safety on and off the slopes at they became familiar faces around the Vail Valley.
"Sarge was a wonderful human being from the remarkable World War II generation -- the Greatest Generation -- and he worked with so many others to make Vail the greatest ski mountain," said close family friend and former vice president Mondale.
Brown's wife of 38 years, Rouene, shared the following quote from "Upon The Mountain" by Eric Shipton, which hangs on the wall of their Grand Junction home. It symbolizes their life together, as well as their individual lives before they were a team.

"He is lucky who, in the full tide of life, has experienced a measure of the active environment that he most desires. In these days of upheaval and violent change, when the basic values of today are the vain and shattered dreams of tomorrow, there is much to be said for a philosophy which aims at living a full life while the opportunity offers. There are few treasures of more lasting worth than the experiences of a way of life that is in itself wholly satisfying. Such, after all, are the only possessions of which no fate, no cosmic catastrophe can deprive us; nothing can alter the fact if for one moment in eternity we have really lived."

Family friend Dr. W. C. Smail, Jr., offered this in Brown's memory: "Bill's life was characterized by his idealism, his pragmatism, his tremendous effort and his fierce loyalty to his wife, his friends, his company and his country. He was a man who gave and demanded excellence. He knew the difference between right and wrong and always did what was right without submitting to expedience."

In lieu of flowers, the family request that memorial donations be made to Hospice and Palliative of Western Colorado, 2754 Compass Drive, Suite 377, Grand Junction, CO 81506 or Roice-Hurst Humane Society, 3320 D ½ Road, Clifton, CO 81520. Plans for a community memorial service will be announced at a later date.



Comment on "Vail ski luminaries, former VP Mondale remember the late Bill 'Sarge' Brown" using the form below