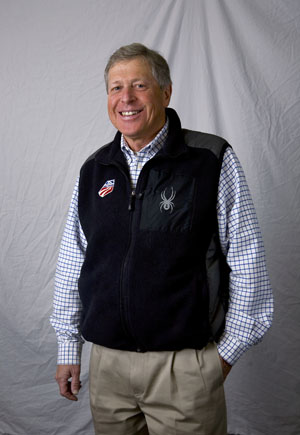 Jack Eck has been awarded the 2008 Citizen of the Year Award by the Vail Valley Foundation.
Courtesy VVMC
Dr. Jack Eck awarded VVF's 2008 Vail Citizen of the Year
By Tom Boyd
November 18, 2008 — When Jack Eck first caught a glimpse of Vail in the 1960s it was a small town hardly worth a dot on the most detailed of maps. A quick gaze from the window of a car, and he and his friends returned to Denver, where Eck was an intern.

The memory, though short, stayed with him.

When he returned years later the town had changed, and so had Eck. A tour of duty as a flight surgeon in Vietnam had heated his blood, and after a year which seemed interminable, Vail seemed just the place to cool down. The small clinic was grateful to have his help, and so was ski patrol. Eck shared his knowledge with patrol – and even joined the force for two winters in 1978-1980 – to help make Vail's ski patrol among the best in the world. He also ran a general medicine practice which was critical to the health of all Vail's early residents without exception.

Thirty-seven years later, the town is honoring Dr. Eck with the Vail Valley Foundation's 2008 Vail Valley Citizen of the Year award, to be presented at the annual Black Diamond Ball Dec. 5.

"It's absolutely unexpected," said a characteristically humble Eck. "I'm just doing the same thing everyone else does up here, getting up and going through the day and going to work. This town is full of can-do people and they should all be citizens of the year."

The "can-do" ethic is central to Dr. Eck's new vision for the Vail Valley Medical Center. He has retired from patient care to work full-time on the strategic development of the hospital. As Eagle County changes and grows, Dr. Eck envisions the Vail Valley as a world center for health and wellness.

"I want to expand and grow our programs, and bring new medical business to our Valley and that would do two things," he said. "One would fill hospital rooms and two, it would fill hotel rooms."

Eck's goals for the future of the hospital are firmly rooted in his deep history with the town.

"Jack Eck was a visionary 37 years ago," offered Harry Frampton, chairman of the Foundation's board of directors, "and he remains a visionary today. When you stop to think about the medical facilities and programs that we are blessed with in this small community, it is truly remarkable and we have Dr. Eck to thank for many of these services."

Eck was selected from a total of 12 nominations that were submitted by interested members of the Vail Valley community. Other nominees included Moses Gonzales, Daniel Leever, Barbara Ward Roberts, Cheryl Jensen, Steve Baird, Susie Davis, Beverly Christiansan, Col. Thomas H. Kirk, Dave and Sue Mott, Dr. Tom Steinberg and Dan and Terry Smith.

The public process marks the first time the Vail Valley Foundation has solicited nominations from the community. The award recipient was determined by a committee of the nonprofit organization's board of directors.

Dr. Eck will join an outstanding list of past recipients of the Vail Valley Citizen of the Year Award, including President Gerald R. Ford (1996), Pepi Gramshammer (1997), Pete Seibert (1998), Dr. Richard Steadman (1999), Gilbert Giordano (2000), Judy Alexander (2001), Gerald Gallegos (2002), Howard and Cathy Stone (2003), Oscar Tang (2004), Diana Donovan (2005), R.A. "Chupa" Nelson (2006) and Erik and Kathy Borgen (2007).

The Vail Valley Citizen of the Year Award is a project of the Vail Valley Foundation. For additional information on the Foundation, contact (970) 949-1999 or visit www.vvf.org.


1 Comment on "Dr. Jack Eck awarded VVF's 2008 Vail Citizen of the Year"