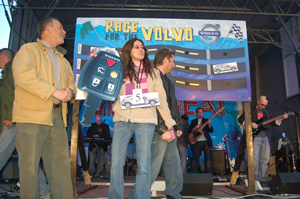 Leadville's Renya Romero accepts the keys to a brand-new Volvo C-30, the grand prize giveaway to conclude the season-long Street Beat free concert series in Vail Village.
Courtesy of the Vail Valley Foundation
www.vvf.org
Leadville woman drives away from Vail concert with incredible early birthday gift
Renya Romero wins new Volvo C-30 at season's final Street Beat concert in Vail
By realvail.com
April 17, 2009 — While Chicago politicians historically rely on constituents voting early and often, once was all it took for Leadville's Renya Romero Wednesday evening as the 35-year-old drove home in a brand new Volvo C-30 as the season-long Grand Prize winner at the final Bud Light Street Beat free concert.

Romero, who works at the Kitchen and Linen Source in Edwards, had only one entry in the hopper when the final eight names were drawn for a chance to compete in the Volvo Grand Prize Road Rally for the car. She had filled out the entry form earlier in the evening.

"This is a really great early birthday present," explained Romero, whose birthday is just around the corner on May 9.

Romero, along with Avon's Steve Croke and Linda Garrett of Edwards, advanced as the final three contestants, successfully picking wrapped gifts that contained miniature Volvo toy cars.

Once in the Volvo Grand Prize Road Rally, Romero jumped out to an early two car length lead, fending off a challenge from Croke before crossing the finish line and collecting her new car.

In addition to the Volvo Grand Prize Giveaway, the evening also included the drawing for the Volvo Return Trip To Vail Grand Prize for a lucky out of town guest and an 80's costume contest.

While the evening's festivities, featuring 80's tribute band Chadzilla & The Asteroids, brought down the curtain on the 2009 edition of Bud Light Street Beat, locals and guests can take heart in knowing that Street Beat's summer cousin, the Bud Light Hot Summer Nights series, is just two months away, with the opening free concert scheduled for June 16 at the Gerald R. Ford Amphitheater.

Bud Light Street Beat is a project of the Vail Valley Foundation. For additional information on Street Beat or the Foundation, visit www.vvf.org or contact (970) 949-1999.


Comment on "Leadville woman drives away from Vail concert with incredible early birthday gift" using the form below