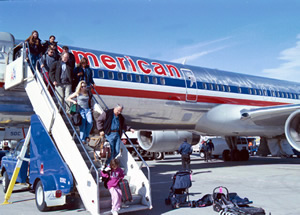 Vail All the Love campaign to give away 100 free airline tickets with lodging reservations
By realvail.com
July 2, 2009 — In addition to the fabulous deals on lodging, restaurants, shopping and activities, the Vail All the Love promotion is adding a new element in savings with free airline tickets.

The Vail Local Marketing District (VLMD), representing all merchants and lodges in Vail will be giving away 50 pairs of American Airlines tickets (total of 100 tickets) to guests booking a stay in Vail this summer.

The 100 tickets are provided courtesy of Vail Resorts. Any new summer overnight bookings of any length of stay will be entered into the sweepstakes drawing.

This is another gesture by the Vail All the Love summer promotion to differentiate the summer experience and send a signal to guests that Vail is working hard to earn their business.

Through July 15, guests making any lodging booking through Vail All the Love website www.vailallthelove.com, or www.vail.com, will be entered into a drawing to win free roundtrip airline tickets for two anywhere American Airlines flies in the Continental U.S.

The drawing will take place Aug. 1 and all winners will be notified on Aug. 2. Winners can travel through April 10, 2010, but tickets must be booked by Sept. 30, 2009

Vail All The Love provides significant savings on lodging from more than 50 lodging properties, as well as savings on Vail mountain dining venues and Adventure Ridge activities.

Participating restaurants, bars, shops, spas, activities, events and services throughout the Town of Vail are also providing exclusive offers to consumers carrying the Vail All the Love card, making it easier than ever to enjoy Vail this summer.

Customers will find all of these offers listed on www.vailallthelove.com.

Comment on "Vail All the Love campaign to give away 100 free airline tickets with lodging reservations" using the form below