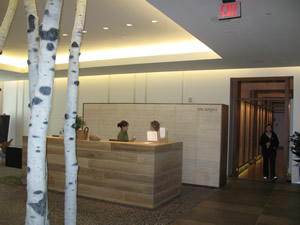 The Westin Riverfront Resort & Spa recently landed Silver LEED certification from the U.S. Green Building Council.
Courtesy of
westinriverfrontavon.com
Avon's Westin Riverfront Resort & Spa lands prestigious Silver LEED certification
By realvail.com
September 24, 2009 — Avon's Westin Riverfront Resort & Spa Thursday announced the property has been awarded Silver Leadership in Energy & Environmental Design (LEED) Certification from the U.S. Green Building Council.

The Westin Riverfront is the first hotel in Colorado to achieve the coveted green accolade and only the ninth hotel in the country to earn Silver LEED status. The resort at the base of Beaver Creek ski area, which opened a year ago this week, is also the first Silver LEED Certified hotel in the Westin brand, which includes more than 160 hotels around the world.

"East West Partners is proud to have been a leader in developing this world class resort," said Westin Riverfront general manager Bob Trotter. "We are dedicated to being respectful of the pristine mountain environment in which we do business and committed to operating this resort in the most sustainable way possible."

To achieve this high level of sustainable luxury, the 100-percent smoke-free resort implemented numerous environmentally conscientious building strategies and operational practices, including:

• Low and non-emitting paints, adhesives and carpets utilized throughout the resort to help ensure healthy indoor air quality.
• Construction of the Riverfront Express Gondola - the ultimate in free public transportation – which delivers guests and locals to Beaver Creek ski area in less than three minutes.
• 50 percent of the resort's electricity comes from renewable sources, including wind power.
• 40 percent of the total building materials and products were sourced within 500 miles of the project.
• 10 percent of building materials were made of post consumer/industrial recycled content, such as the roof tiles made from recycled automobile tires .
• Enhanced and donated a 5-acre riparian zone along the Eagle River to the Town of Avon as permanent public open space.
• Sophisticated building control system allows front desk associates to adjust the temperature in individual rooms upon guest arrival/departure so that unoccupied rooms are not unnecessarily heated or cooled.
• Spa Anjali is Colorado's first dedicated green spa, using only environmentally-friendly products and organic spa linens

"The management and staff at the Westin have worked hard to develop innovative ways to achieve this prestigious certification, and as a result, the resort fits the mold for new, efficient, and eco-friendly businesses that are the future of this state and country," Colorado Gov. Bill Ritter in a letter of congratulations to The Westin Riverfront.

In celebration of its Silver LEED status, the resort has created The Westin Riverfront Green Package. Starting at $149 per night for a studio suite during the off season and $319 per night during peak winter season, the package includes:

• Accommodations in a spacious studio suite.
• Purchase of Verified Carbon Credits to offset the carbon emissions from a round-trip drive to the Vail Valley from metro Denver, purchased from Sustainable Travel International.
• A bottle of in-house purified water delivered in a recycled glass container from Restaurant Avondale.
• Participation in Westin's "Make a Green Choice" program, which allows guests to opt out of towel/linen replacement and housekeeping for up to three days for your choice of either a $5 resort gift card for each night of participation or 500 Starpoints for each stay.
• Complimentary valet parking when guests arrive with more than two people in the vehicle or in a hybrid vehicle.

Guests looking to experience a little extra relaxation can upgrade to The Westin Riverfront Green Spa Package, which includes all of the above, plus a $150 credit to Spa Anjali and a stainless steel Spa Anjali water bottle.

Rates for The Westin Riverfront Green Spa Package start at $199 per night. A three night minimum stay is required on both packages and certain restrictions apply. To book, visit www.westinriverfrontavon.com.

Developed by Colorado's East West Partners, The Westin Riverfront was designed by the architectural firm of Hornberger & Worstell of San Francisco in conjunction with OZ Architecture of Boulder, which is the architect of record. The interior was designed by internationally recognized leader Skidmore, Owings & Merrill, LLP.

Situated on the banks of the Eagle River with breathtaking views of Beaver Creek Mountain, The Westin Riverfront was named to Condι Nast Traveler's "Hot List 2009" as one of the 140 hottest new resorts worldwide.

"As a company, East West Partners recognizes that our resorts depend upon the beauty of a healthy natural environment," said East West Partners project manager Andy Gunion. "Throughout construction, the team stayed focused on our LEED goal – from close monitoring of construction waste recycling to procuring the drywall directly from a gypsum mine and processing plant located just 30 miles from the site."

The Westin Riverfront features 210 guest residences ranging from studio suites to three-bedroom condominiums, all featuring contemporary "mountain modern" dιcor, expansive windows, custom kitchens, five-piece bathrooms and gas fireplaces.

Other amenities include a ski valet, on-site ski rental and fly fishing shops, the Riverfront Club fitness center, a saline-based outdoor lap pool and three oversized riverside hot tubs. The hotel's 4,000 square feet of meeting space features floor-to-ceiling windows showcasing mountain views.


Comment on "Avon's Westin Riverfront Resort & Spa lands prestigious Silver LEED certification" using the form below