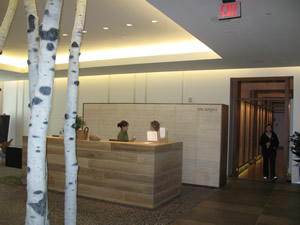 Westin Riverfront Resort & Spa hosts eight-week weight-loss program with Dr. Jacqui Slavin
By realvail.com
July 19, 2009 — The Westin Riverfront Resort & Spa will host an eight-week weight loss program featuring Dr. Jacqui Slavin, D.C. of Edward's Functional Wellness starting Thursday, Aug. 6.

The program includes daily journals, weekly information sessions with Dr. Slavin, two group exercise classes per week, delicious low glycemic recipes, meal plans and shopping lists.

Past participants have lost between 12 and 25 pounds and inches around their waist, hips, chest and thighs, as well as experiencing decreased joint pain, improved sleep, improved digestion and decreased bloating.

To kickoff the program, The Riverfront Club will host a complimentary informative lecture July 23 at 5:30 p.m. Dr. Slavin will discuss "How Nutrition can Reduce Inflammation and Help Mitigate Stress on the Body" and Warren Schick, Master Trainer (CSCS), will talk about "The Importance of Muscle Balance and Posture on Joint Injuries."

Dr. Slavin's eight-week weight loss program will address:

· Blood Sugar Balance and Mood/Hormone Relationships

· Weight Loss and Stress

· Fat Burning versus Fat Storing

· Intelligent Food Selection and Planning

· Aging and Chronic Disease Prevention

· Menopause and how to reduce hot flashes, brain fog and sweating

The program fees are $180 for Riverfront Club members (including two free classes/week) and $200 for non-members. Non-member participants can purchase a 10-card Riverfront Club Class Card for the discounted price of $100 for 10 classes. Some restrictions apply.

Program participants can also take advantage of group personal training sessions starting as low as $25 per person, or private personal training sessions for $60 per person, as well as discounts on New Leaf Metabolic Assessments.

For more information, call the Riverfront Club at (970) 790-2051 or visit www.riverfrontclub.com. To contact Dr. Slavin, call (970) 376-7779 or e-mail Jacqui@functionalwellnessonline.com.

At the base of Beaver Creek Mountain, The Westin Riverfront features 210 guest residences ranging from spacious studio suites to three-bedroom condos. For more information, call (866) 949-1616 or visit www.westinriverfrontavon.com.

1 Comment on "Westin Riverfront Resort & Spa hosts eight-week weight-loss program with Dr. Jacqui Slavin"