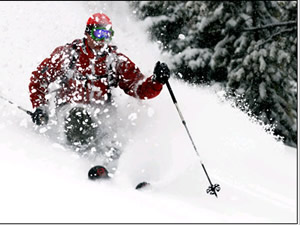 If you want to get in shape for this kind of action this coming ski season, check out the Westin Riverfront Resort & Spa's 8-week Pulse Yoga Ski Conditioning Course starting Sept. 30.

Westin Riverfront offers new Pulse Yoga Ski Conditioning Course and one-day workshop
By realvail.com
September 17, 2009 — The Riverfront Club at The Westin Riverfront Resort & Spa is offering an 8-week Pulse Yoga Ski Conditioning Course starting Sept. 30 and a Pulse Yoga Workshop on Oct. 4 from 9 a.m. to noon.

The cost of the workshop is $45 for the general public and $40 for Riverfront Club members. The registration fee includes one of four Pulse Yoga DVDs - Pulse Yoga I Basic, Pulse Yoga II Balance & Tone, Pulse Yoga III Stamina & Strength or Pulse Yoga Express.

The 8-week Pulse Yoga Ski Conditioning Class starts Sept. 30 and runs on Wednesday and Friday evenings from 5:30 p.m. to 6:45 p.m. through Nov. 20. The cost is $20 per class for non-members and $15 per class for Riverfront Club members. Sign up for all 16 classes for $175 (public welcome).

Created by Argie L. Tang and Prisca Boris, Pulse Yoga is a new exercise paragon that marries the best elements and disciplines of Pilates, weight training and yoga into one structured session that builds strength, stamina and power while improving balance and flexibility.

This ideal form of exercise applies micro movements and free weights to basic yoga postures. These repetitive pulse movements serve to strengthen, sculpt and tone. For more information on the Pulse Yoga program, visit www.pulseyoga.com.

To reserve a spot, contact Warren Schick at (970) 790-2021 or wschick@westinriverfront.com. Pre-registration is recommended for the Riverfront Club's Pulse Yoga Workshop.

Restaurant Avondale at The Westin Riverfront will also be offering one complimentary Avondale Signature cocktail with the purchase of an appetizer to all Pulse Yoga Ski Conditioning program participants this fall, valid on day of class only.

Perched on the banks of the scenic Eagle River, The Westin Riverfront features 210 guest residences ranging from spacious studio suites to three-bedroom condos and offers direct access to Beaver Creek Mountain via the Riverfront Express Gondola. For more information, call 866-949-1616 or visit www.westinriverfrontavon.com.



Comment on "Westin Riverfront offers new Pulse Yoga Ski Conditioning Course and one-day workshop" using the form below