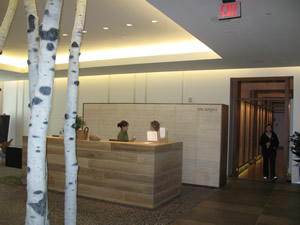 Westin Riverfront Resort & Spa offers special package for Yoga Workshop weekend
By realvail.com
August 9, 2009 — The Riverfront Club at Vail Valley's new Westin Riverfront Resort & Spa is hosting a two-day Hunger for Contentment Illumination Yoga Workshop Aug. 29-30.

Hosted and instructed by Lauren Brand of Summit County's Illuminate, LLC, the weekend retreat will combine yoga practice, journaling and meditation to help guide attendees on their ever-evolving journey for contentment.

For attendees who want to dedicate their entire weekend to wellness, The Westin Riverfront has created a lodging package to accompany the retreat.

The three Illumination yoga sessions include:

Contentment and Adjustment - Saturday, Aug. 29, 9 a.m. to noon

* SWEAT: An opening ceremony, a deep yoga practice, nutritional challenge and meditation will initiate the journey to discover what contentment is and what people truly hungry for. Lunch provided.

Creation vs. Reflection - Saturday, August 29, 2 p.m. to 5 p.m.

* RESTORE: How might consumption habits create lifestyle? Attendees will explore diverse cultures to discover their own answer and flip the coin in their own lives. Anticipate journaling, coaching, some fresh air and a restorative yoga practice.

One session for $40, or all three sessions for $95

Conscious Living - Sunday, Aug. 30, 9 a.m. to noon

* FLOW: What connection does contentment have with consciousness? This question will guide attendees through an exploration of Ayurveda's four parts of the mind, a reflective meditation, consumption guidance and an intuitive Prana Flow practice to guide moment to moment.

The cost is $40 for a single session or $95 for all three sessions. All levels welcome. Attendees are asked to bring athletic shoes, a yoga mat and a writing journal.

For more information on the yoga retreat or to reserve a spot, contact lauren@illuminate-life.com or call (303) 956-0547. Pre-registration recommended.

Attendees who want to stay the weekend at The Westin Riverfront can take advantage of a special August Yoga Retreat Package, which includes participation in all three sessions, a one night stay in a spacious studio suite, one 90-minute guided nature hike, access to the Riverfront Club and discounts on treatments/personal training sessions at Spa Anjali and the Riverfront Club.

The August Yoga Retreat Package is $199 for single occupancy or $269 for double occupancy. To make a reservation, visit www.westinriverfrontavon.com or call (866) 949-1616.

For more information on the Riverfront Club, call (970) 790-2051 or visit www.riverfrontclub.com.

Comment on "Westin Riverfront Resort & Spa offers special package for Yoga Workshop weekend" using the form below