The Powder Predictor
RealVail Weather Watch Blog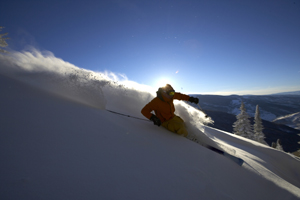 Sunny days, like the one pictured at Vail above, have been rare the past month, but the upcoming week ought to shine like a diamond.
By Jack Affleck/Vail Resorts
Blog Tools
Comments
Permalink
By Reid Griebling
January 10, 2008 — Good day to all, hope everyone is enjoying the cold, and still very good snow on both resort mountains.


The last ten days have been superb, with almost four feet of snow blanketing Vail and Beaver Creek mountains. The temperatures have also been ideal; mild during the day, and cold at night, keeping the snow pretty much perfect.

We do have another quick shot of snow heading our way tonight (Thurs.) and moving out by Friday afternoon. This storm will surf on the northwest jet stream with limited moisture, but we could see a total of 5-7 inches by Friday p.m. (hopefully). Temps should stay cool during the day and overnight, with daily temps on mountain in the high teens and low 20's.


Night time should see temps drop in the single digits, keeping the snow on the mountain, again, pretty much perfect. The downside is these low temps at night are not too favorable for huge amounts of snow because the dew points can be too low for any heavy moisture to fall, although, stranger things have happened.


As I mentioned, snow totals will be much lower than we have seen in the past 10 days. So itís time to break out the crud busters and enjoy the sunny days that will follow this storm. We should see our next significant storm roll in late next week (about seven days from now), until then, enjoy the snow, sun, and skiing at both Vail and The Beav.



Submit a comment on "At long last, sunshine"
---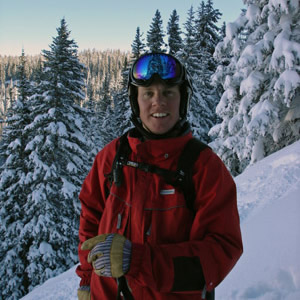 Blog Tools
Comments
Permalink
By Reid Griebling
January 8, 2008 — Hello all, hope everyone has had a chance to enjoy the snow conditions on Vail and Beaver Creek Mountains. I have and itís been great.


Weather this past weekend was perfect, big snowfall, light winds, and perfect temps made for some great skiing. This week we should see some more snowfall, not as big, but snow none the less.

Tonight (Jan. 8) should bring us a quick shot of snow from a small low approaching from the NW. Four to six inches is possible by the 8 a.m. morning reports at both mountains.


Skies should clear by afternoon on Wednesday and Thursday should be sunny ski day. Temps for Wednesday should be a little cooler (teens and 20s) after the system moves through, with temps on Thursday a little warmer (mid 20s).


Friday looks like another round of snow for the area, but we will keep watch as the week progresses.


David wrote in the "O Report" this weekend about some of the snowfall totals being a little of between Vail and the Beaví. I for one was shocked to see that the Beaví received only 8 inches on Sunday from the morning report. I had 9 inches on my car in Edwards.


Which brings me to some information for all of you powder hounds. If you want to check the morning report everyday, with accurate 24-hour snowfall totals, my advice would be to check the realvail.com snow report on the left-hand side of this page, or call the Ski Patrol avalanche hot lines. The hot lines will give an idea of what has happened with the weather within the last 24 hours.


Vail Ski Patrol: 970-479-4652

Beaver Creek Ski Patrol: 970-845-6652.


Both of these hot lines are updated by 8:30 every morning. These recordings will also give you an update of avalanche activity for those who wish to venture outside the ski area boundaries. Hope this info will help. Until next time, happy skiing.



Submit a comment on "Four-to-six expected tonight"
---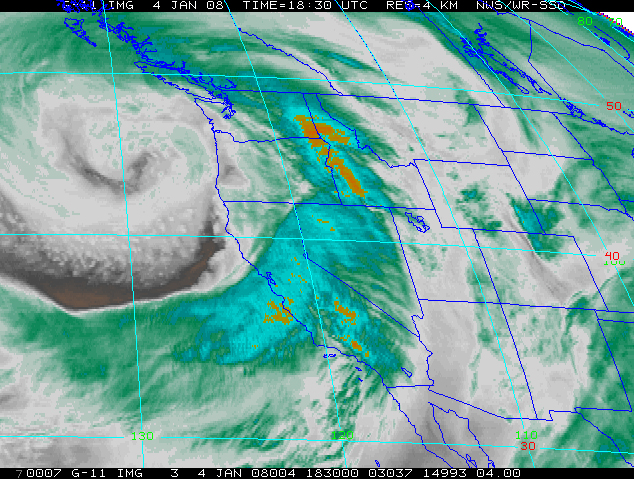 A huge system is moving over California and heading our way.
Satellite image courtesy of the National Oceanic and Atmospheric Administration
noaa.gov
Blog Tools
Comments
Permalink
By Reid Griebling
January 4, 2008 — An ominous Friday here in the mountains of Colorado as we await a very large weather system looming on the West Coast.


As of this morning, wind gusts in California have reached 80 mph on the valley floors, knocking out power lines and tree limbs. This substantial low pressure system is in direct line with San Fran. and as local weather watchers know, anytime a system hits San Fran it is in direct line with central Colorado.

We will begin to see light snow late tonight (Fri) with winds increasing through the early morning hours.
Temps should stay mild (comparatively) in the low to mid 20s on the hill and low 30s around town.


This will all change during the day Saturday as the low slowly moves into the Great Basin area bringing with it ample amounts of wind and snow; a lot like we saw last weekend. Slow system is the operative word here as we should hopefully see this system stall as it creeps eastward. Sunday looks the same as snowfall could fall at an inch per hour at times (isolated).


Monday the storm begins to move east with snow showers still persisting in the mountains. Tuesday we will see a break in the weather, however, we could still see some lingering showers. All in all it should be a terrific weekend to ski. Sunday and Monday look like the days to ski with a prediction of morning snow totals tallying between 7 and 12 inches each morning.


Please remember that it will, again, be VERY WINDY both days, temperatures should be in the mid to low teens on the mountains with wind gusts in the 30-40 mph range. Skiing should be great, have fun and be safe.


3 Comments on "Big, ominous storm coming our way"

Submit and read more comments on "Big, ominous storm coming our way" now!
---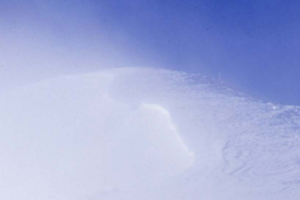 Blog Tools
Comments
Permalink
By Reid Griebling
January 2, 2008 — Happy New Year everyone, and I hope all had a safe, yet eventful, New Yearís Eve.
I know some people were stranded by the snowfall last weekend, but if you were on the hill it was great. Vail saw 10 inches of new snowfall on the ground by Monday morning and the Beav reported 8.
I was lucky enough to ski both mountains and must say they are both primed for the next dump. The tree skiing at Arrowhead is almost perfect, everything seems to be getting some good coverage, and stumps are starting to disappear.
Beaver Creek looks just as good, and Grouse Mountain was killer. The bumps were soft and fluid. Vail had some windblown areas on the upper ridges and peaks, but the minute you got below tree line, well, that's why Vail is Vail Ė there was fresh snow, and lots of it.
Both mountains are well above yearly snowfall totals, which reminds me, let's look at the weather for this up coming week. Forecasters are calling for a ridge of high pressure building (Wednesday and Thursday) with temps rising for the week. Temperatures will be in the mid 20s at the base of the hill and teens on top.
On Friday a strong looking low begins to move into California and Nevada binging rain and snow. This storm looks like it should hit Colorado Saturday night with gusty winds and cooler temps. We should see an ample amount of moisture with this system as it slowly moves east Sunday and into Monday.
The good news here is the amount of moisture and the pace of the storm.
If this is a slow mover we could see good amounts of snow on Sunday and especially Monday (again). We will be watching as the week progresses, but keep your fingers crossed for another wintry weekend here in the Vail Valley.

Submit a comment on "Snowfall could be big again this weekend"
---
Read More Blog Entries
Previous
Next
Last
Blog entry 97 through 100 of 101 total entries
Bloggers Profile and Information